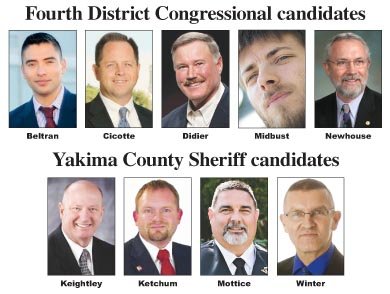 From a second grade class president to a four-term state legislator, the race is on to replace Doc Hastings for the state's Fourth Congressional seat.
Yesterday was the first day for candidate filings and five submitted their names for the Fourth District.
Republicans who filed on Monday were Dan Newhouse of Sunnyside, a four-term legislator and former state director of agriculture, former U.S. Senate candidate Clint Didier of Eltopia, attorney George Cicotte of Kennewick and self-described second-grade class president Kevin Midbust of Richland.
The lone Democrat was Estakio Beltran of Richland, a former aide to Sen. Maria Cantwell.
There also appears to be a heated contest in the works for Yakima County Sheriff, as yesterday four candidates filed to replace Ken
Irwin, who is retiring.
Candidates filing yesterday were Jeff Ketchum, Tieton police chief; Rick Mottice of Grandview, a Yakima County deputy sheriff for 19 years; Jim Keightley of Yakima, an administrative captain for the Ellensburg Police Department and former lieutenant with the State Patrol; and Brian Winter of Selah, lieutenant for the Yakima County Sheriff's office.
Other county candidates filing yesterday were Rand Elliott and Ilene Thomson in re-election bids for their Yakima County Commission seat and county treasurer post, respectively.
Also, Yakima Superior Court Judge Gayle Harthcock and Yakima District Court judges Kevin Roy, Brian Sanderson, Donald Engel and Alfred Schweppe filed for re-election.
Troy Clements filed to run for the county's prosecuting attorney post, while Jack Hawkins filed in a bid for re-election to the county's coroner post.
Dave Cook is also seeking to retain his post as Yakima County assessor.
One other contest formed yesterday when Janelle Riddle and Kathleen Carter filed for the Yakima County clerk position currently held by Kim Eaton.
In state legislative filings, David Taylor of Moxee filed to seek re-election as a 15th District state representative and Jim Honeyford of Sunnyside filed in a bid to keep his state senate seat. Election officials noted that Honeyford's filing is contingent on receipt of the filing fee.
The candidate filing period continues through Friday of this week.