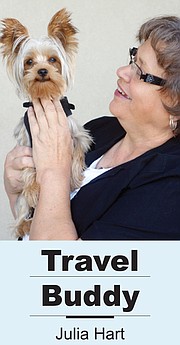 I've finally realized why my Yorkie, Buddy and I get along so well. We are both diggers.
Naturally, his digging involves big holes in my back yard, while my digging is into the backgrounds of stories which I think may be interesting and are often perplexing.
Take for example, the recent and repeated mention of a so-called bronze pathway located in downtown Sunnyside. Where is it and when did it start? What is it? Who is on it and why is it there?
I was around when it was first suggested, planned and executed, but I've missed a few years since then and apparently nothing has been done on the Sunnyside Bronze Pathway since 2009.
I take that back. More recently a brand new statue was installed at the Franklin Avenue and South Fifth Street intersection honoring Outlook astronaut Dr. Bonnie Dunbar.
After a bit of digging, though not as deep as Buddy might have wished, we discovered that there are still slots cut into the sidewalk along South Fifth Street, between the dairy industry statue and the Bonnie Dunbar tribute, near the city pool entrance.
A plaque nearly hidden by low growing shrubs reveals that the project was started in 2000, as a precursor to the city's centennial, which was held in 2002. The pathway was the project supported by the city council at that time, led by then Sunnyside Mayor Ed Prilucik.
The first markers honored an outstanding adult, youth, living and past pioneers. By my count there were slightly more than 30 people's names engraved in cement along the brick-lined walkway between 2000 and 2009.
The Fifth Street path, soon to be the location of Sunnyside's farmers market, is just an extension of the pathway, which encircles Centennial Square. Buddy and I love the square, which is a great place to walk Buddy on any Sunday afternoon in downtown Sunnyside. It's pretty quiet and he has no one to bark at except an occasional car.
The Sunnyside Centennial Square with its bandstand is on land donated to the city by the Don Vlieger family. It is a beautiful, if underused, city landmark. It features public restrooms and a bronze statue of H. Lloyd Miller, the father of the Roza Canal. The square also has a pathway lined with bricks purchased by individuals, community organizations and civic groups, who helped to complete the downtown park project.
I understand that next year, once the downtown street project is done, the farmers market will be moved into the square for Saturday market days.
I vaguely recalled, and I confirmed by my research, that the pathway was originally designed to connect the bronze statutes from downtown to the Sunnyside Museum, and then it was to meander through Central Park and back into the downtown area.
As Buddy and I took our Sunday stroll, I wondered why in the last five years, no more names had been added to the Fifth Street pathway.
I wondered if no one knows a person who might be considered a living pioneer or a past pioneer like the late George Shroder, who was honored in 2009.
I also pondered why more outstanding youth had not been honored since the honoring of SHS graduate Jose Francisco Navarro in 2009. By the way, Navarro is now a 2012 graduate from Eastern Washington University and is currently executive vice president of student affairs at Eastern.
I understand there may be a list of the pathway honorees on file at the Sunnyside Museum, according to the original corner stone located at the intersection of East Edison Avenue and South Fifth Street.
Buddy and I will have to track that list down. In the meantime, he and I are looking forward to the opening of the revamped farmers market this Saturday. Well, me more than Buddy, unless someone is selling homemade doggie biscuits.

While he is chewing on his treat, I'll be asking how we can nominate someone to be included on the memorial sidewalk. We have someone in mind.