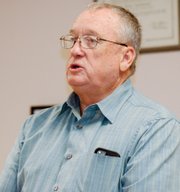 Did you know that there are only two signs on I-82 denoting where Sunnyside is?
Moving to Sunnyside 10 months ago in order to take on the challenge of being Sunnyside's city manager, Don Day was surprised and puzzled to notice that "…there is no mention of Sunnyside on the freeway until you are almost get to the closest Sunnyside exit."
Day, the guest speaker at Wednesday's meeting of the Daybreak Rotary Club, said he thought it was odd that between Sunnyside and Pasco and Yakima and Sunnyside, other towns are mentioned a lot, but Sunnyside is nearly missed.
"We need to change that," he said.
Day believes marketing the town and helping to find its identity has to be the first thing the community undertakes.
"But I can't do that," he told the groups of Sunnyside businessmen. "You, the community have to decide how you want to be known," he said.
Day reminded the Rotarians that city government is designed to regulate businesses and protect the citizenry. "We work for you," he said. "How do you want Sunnyside to be known as," he asked.
"It ain't the '40s any more or the '60s. It's 2014 and businesses have to give shoppers a reason to come to Sunnyside to visit downtown," Day said. "We have to think outside the box."
Day commented on the current effort to revive downtown Sunnyside, saying he envisions the center of town to be more pedestrian friendly.
"But we have to give people a reason to walk around and shop downtown. We need to brand the community. We are in the heart of wine country. We are in the heart of the agricultural community. We need to come up with an identity," he said.
In addition to recreating the downtown, Day spoke briefly about the Monson property the city purchased several years ago, located west of Sunnyside.
"It's for sale," he said. "But I don't anticipate it selling anytime soon."
For now Day said he is working to see Sunnyside streets cleaned up, more lights on dark corners and a general sprucing up of neighborhoods.
"I ask for your patience. But don't let the fire go out," he urged.
"Call me and talk to me. I might have to say no, but I'll always try to answer your questions," he told the Rotarians.