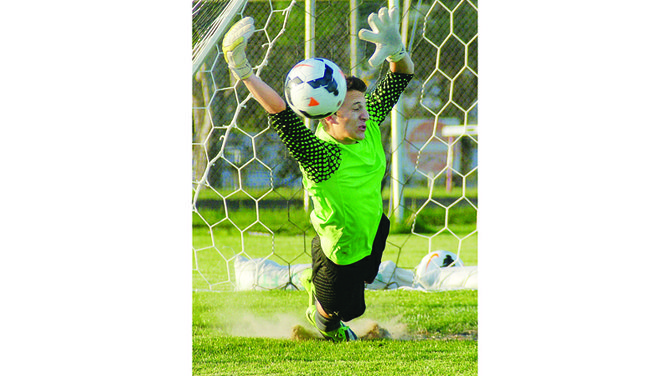 BOYS PREP SOCCER PLAYOFFS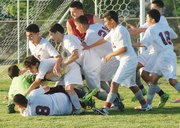 GRANDVIEW – Greyhound soccer fans were on their feet during a nail-biting, nerve-wracking District semi-final match-up against Othello last night at Rich Leenhouts Stadium.
The enthusiastic fans were rewarded when Grandview prevailed after ending regulation and double overtime in a 1-1 tie. The 'Hounds defeated the Huskies during a penalty shootout.
"For the third time this season the match did not disappoint," said Grandview Coach Anne Holden.
She noted Grandview and Othello split their season matches, and the 'Hounds knew it would be an intense match-up.
Grandview drew first blood in the 14th minute of the match. Senior Fabian Lua controlled a high pass from sophomore Carlos Ramos by turning sharply to stroke the ball into the back of the net.
"But, the 'Hounds weren't able to hold the lead for long," said Holden.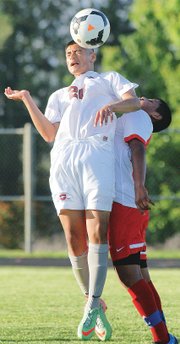 It took just six minutes for Othello to equalize the match.
"The Huskies replied with an incredible strike from the midfielder, Hugo Martinez," Holden said.
Martinez half-volleyed a shot away to get the ball into the back of the net. Teammate Jason Rodriguez delivered the assist.
Both teams created several more scoring opportunities throughout the remainder of the opening half, but were unable to capitalize.
In the second half the score remained deadlocked at 1-1.
"Othello's best chances came from free kick situations," said Holden.
So, too, for the 'Hounds.
Neither team was able to find the back of the net as both keepers took their duties seriously, blocking the shots.
Through two overtime periods, the Huskies and the Greyhounds successfully prevented one another from scoring, as well.
That forced the teams into a penalty shootout situation, during which four Grandview players were able to get the ball past keeper Angel Rangel of Othello. They include Carlos Ramos, Israel Gonzalez, Victor Valencia and Fabian Lua.
Just two Huskies, Jacob Quiroz and Hugo Martinez, were able to hit their mark, giving the 'Hounds the victory.
"Freshman keeper Antonio Garcia stood the tallest as he saved two penalty shots back-to-back," said Holden.
Garcia tallied six saves overall, whereas Rangel recorded nine.
Grandview attempted to score 10 times and Othello had seven shots on goal.
"Antonio (Garcia) was magnificent," said Holden. "He brings such determination and a will to win in such stressful and nervous times."
She said Grandview is eager to play tomorrow's (Thursday) District championship match. The 'Hounds will host Toppenish. The loser of the match will this coming Saturday play the winner of tomorrow's match between Othello and Selah. The winner of Thursday's game will advance to 2A State as a No. 1 seed.