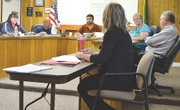 MABTON – At its next regularly scheduled meeting on Tuesday, May 27, the Mabton City Council is expected to pass tighter dog licensing requirements.
In anticipation of that move, Police Chief Rick Gutierrez told council last night, Tuesday, door hangers were posted at 133 homes in town with unregistered dogs.
If owners do not register the animals by the end of the month, according to Gutierrez, they will be facing a $500 fine.