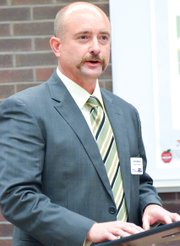 GRANDVIEW – United Way is changing the way it approaches its role in the communities it serves.
That's according to John Warren, executive vice president of United Way of Central Washington.
Speaking to the Grandview City Council this past Tuesday, he said there is an effort to reevaluate the mission of United Way, removing itself as a leader and becoming a better partner.
United Way, Warren said, wants to improve the lives of those living in communities it serves.
"Healthy ideas and choices can be used to work against poverty," Warren said.
By partnering with organizations imbedded in the communities, he said United Way will better be able to help citizens get "…on track to overcome barriers that lead to poverty."
Warren said the organization is refocusing its efforts and reorganizing the method used for providing funding.