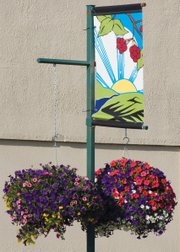 The time is approaching once again for Sunnyside's flower brigade to maintain hanging flower baskets downtown.
Volunteers are needed to drive the watering truck downtown to water the baskets. Organizers note there are fewer baskets this year due to downtown construction, and so it should take about two hours to do the watering.
The baskets will go up on Tuesday, May 27, and watering will start May 28 and continue through September. The hope is to have enough drivers so that each volunteer only has to help out once every other week.
Volunteers need only have a valid driving license.
Anyone interested in volunteering should call Bill Flower at 830-5209 or Pat Kezele at 837-7054.