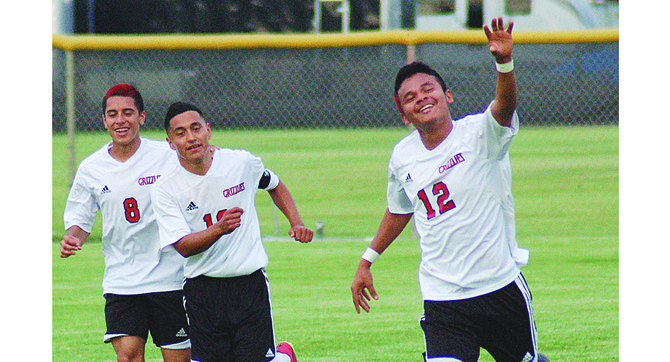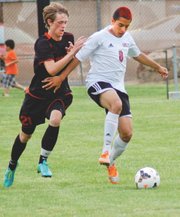 Don't let the final score fool you, the Sunnyside Grizzly soccer team had its hands full last night with visiting Kamiakin before pulling out a 3-0 victory in a first-round Regional playoff match.
"It was a hard-fought match, a bloody war," said SHS Coach David Guevara.
Host Sunnyside didn't crack the scoreboard until nearly halftime, as Alexander Marin headed in a pass from Enrique De La Cruz to put the Grizzlies up 1-0.
Thursday's outcome was still very much in doubt with 15 minutes to play in the match. But, Sunnyside gained some breathing room thanks to a goal in the 65th minute. The penalty kick boot by Lupe Granados was set up when Kamiakin's keeper tackled Marin in the box in front of the Braves' goal.
It remained 2-0 until the 80th minute – again nearing injury time – when Marin dished to Francisco Quiroz, who stuck the ball into the net for the final goal.
Quiroz was inserted in the game as a reserve.
"Sergio (co-coach Licona) reminded him he needed to put pressure up front and he scored."
Guevara said the fact Sunnyside scored two of its goals in injury time wasn't just a coincidence.
"It's one of those things where we kept going, just putting pressure on their defense," Guevara said of the Grizzlies, who outshot the Bears 15-to-5.
"Heat was a big factor for both teams, and when players see the clock and the half is nearly over they can get fatigued. Our boys just kept going and stuck with it."
But it wasn't just the offense that shined for Sunnyside last night. The Grizzly defense also rose to the occasion, with starting keeper Jorge Villegas leaving the match early due to a rib injury. He was replaced by Manuel Calvillo, who had started in goal earlier this season.
"We minimized their opportunities, held them to distant shots," Guevara said. "It was great to see a complete team effort."
Sunnyside improved to 16-2 with the victory and tomorrow, Saturday, hosts Kennewick at 1 p.m. in the Regional championship match.
"Kennewick's a well-coached team, a very talented team that can put the ball in the back of the net," Guevara said of tomorrow's foe, noting the Lions put a 11-0 pasting on Shadle Park this past Tuesday.
Win or lose on Saturday, Sunnyside will end up no worse than a No. 2 seed to State next week. Guevara said the Grizzlies are assured of hosting a first-round State playoff match next Tuesday.
But first things first. Sunnyside wants to take care of business tomorrow afternoon in the friendly confines of Clem Senn Field.
"The boys are buying into our mantra of going 1-0 every game. If we take care of the little things it's difficult for teams to beat us," Guevara said. "They're the writers of their own destiny."