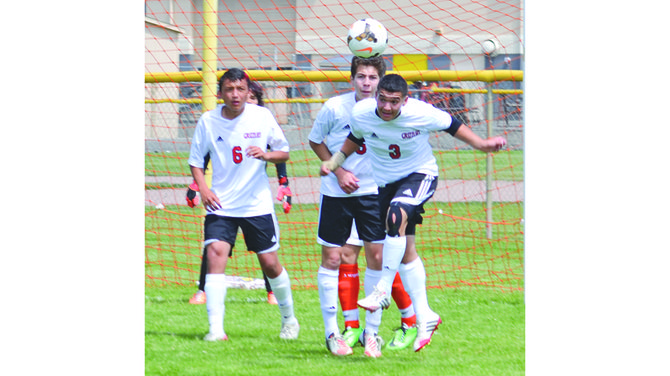 BOYS PREP SOCCER PLAYOFFS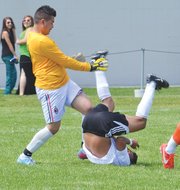 In a costly victory, the Sunnyside Grizzly soccer team earned a 3-2 shootout triumph over visiting Kennewick last Saturday to win the Regional championship.
As he did in a Regional playoff victory last Thursday, Alexander Marin had a hand in Sunnyside's goals.
About 12 minutes after he entered the game as a reserve, Marin pushed the ball down the left sideline and dished to Christian Chavez for a goal that put the Grizzlies up 1-0 in the 22nd minute.
In the 34th minute, Marin was at it again. The sophomore gathered in a long pass and appeared set for a one-on-one shot at the goal before he was taken down in front of the net. Teammate Lupe Granados drilled the ensuing penalty kick to stake Sunnyside to a 2-0 lead.
But the sequence took an unfortunate turn.
Not only did the Lions have a player red-carded and sent off for the Marin tackle, Marin himself, face down in the grass, was red-carded and dismissed for flailing his legs at opposing players while he was on the ground.
The situation could have gotten worse with players from both sides jawing at each other. The Kennewick keeper, Henry Hernandez, even appeared to kick at Marin while he was on the ground but was not penalized.
Order was soon restored, but the Grizzlies had lost a key playmaker and seemingly their mojo.
"I don't know if it took the wind out of our sails, but it was tough for the boys to lose a player of Alexander's quality of play," said Co-Coach David Guevara.
He added the Grizzlies also struggled in adjusting to what appeared to be tight officiating by referees.
"We were called for 29 fouls compared to 13 for them, which was interesting," Guevara said. "We were an aggressive team, but not that much more aggressive (than Kennewick)."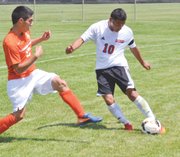 With both teams down to 10 players on the pitch the rest of the way, Sunnyside failed to score in the second half. Kennewick capitalized on a pair of penalty kicks – one in the 50th and the other in the 60th minute – to force overtime
After two scoreless overtime sessions, the match and Regional title and a top-seeding at State all came down to a penalty kick shoot-out.
Chavez and Granados both scored on their penalty kick tries to put Sunnyside up 2-1. The Lions answered with two scores and blocked a pair of Grizzly attempts to take a 3-2 lead.
Kennewick then had two chances to win the match, but had both batted away by Sunnyside keeper Jorge Villegas. While the senior back-stop kept Sunnyside in the match, teammates Noe Meza and Jesus Torres both canned their penalty kicks to make it 4-3.
Kennewick had one last try to knot the score and force another round of PK's, but Villegas recorded his third straight stop to earn Sunnyside the victory.
"It was difficult, but we pulled it out," said Guevara. "We were able to come together as a team."
Unfortunately, Marin's red card means he'll be unavailable for the State tourney, which Sunnyside opens tomorrow, Tuesday, at home against Auburn-Mountainview. The match starts at 5 p.m.
Guevara says the Grizz (18-2) will be fine without Marin on the pitch.
"Our motto is next guy up. We have individuals like Manuel Calvillo and Joel Flores to step up," he said. "Sergio (Co-Coach Licona) had a conversation with the boys and reminded them it's a team sport, not one person. They need to react clear-headedly and not be so emotional."
Marin, who suffered cuts on his face from the encounter in front of the Kennewick goal, will be available to help Sunnyside in practice. "Even though he's not on the field in the game, he'll have a big impact in practice," Guevara said.