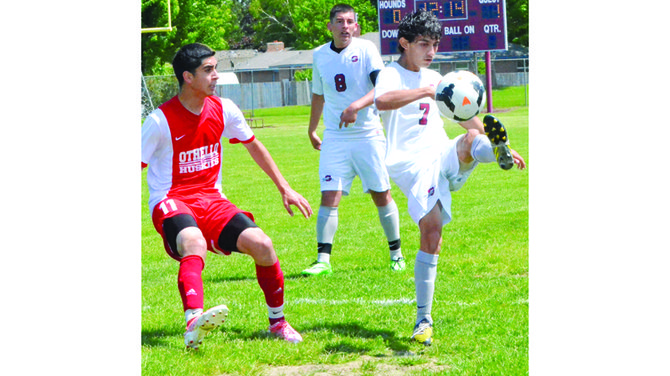 BOYS PREP SOCCER PLAYOFFS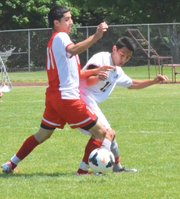 GRANDVIEW – It was a disappointing end to a whirlwind of a season for the Grandview soccer team.
The Greyhounds succumbed 2-0 to Othello in the CWAC District playoff game, dashing their hopes at a State berth.
"Yeah, this is the fourth time that we have played Othello this season, and unfortunately for us the outcome ended our season," said Grandview Coach Anne Holden.
The Huskies in the 26th minute of the match scored the first of two goals. Jacob Quiroz found the back of the net after Grandview keeper Antonio Garcia blocked an attempt. The ball rebounded off Garcia, he fell to the ground and the Husky reacted more quickly than the Greyhound defenders.
The league rivals kept moving the ball back and forth across the field. Othello got a little physical, drawing a few yellow cards along the way.
At intermission, however, the Huskies were still clinging to just a 1-0 lead.
Holden, during the break, told her team, "You've gotta want it…you have to be hungry."
Her enthusiastic pep talk gave the 'Hounds a little more hustle and the team responded "…with a flurry of action just after the halftime break."
Grandview's Victor Valencia and Samuel Cuevas combined to create some scoring opportunities.
Othello keeper Angel Rangel, however, was able to keep the ball from sailing between the crossbars.
"(Valencia and Cuevas) worked the ball really well and a shot Sam got off had the keeper beat…but not at the crossbar," said Holden.
Othello doubled its efforts and hit pay dirt in the 59th minute. Jason Rodriguez "…pounced on a loose clearance to steal the winning score," Holden noted.
Grandview wasn't able to make up the difference in spite of having nine shots on goal.
Othello recorded eight scoring attempts, and Garcia was able to keep the Huskies from scoring on six of those shots.
Rangel successfully shut out the Greyhounds (11-7) on all nine scoring attempts.
"It's always hard to see your season end, but I am so very proud of what this team accomplished this season…a league championship with an untarnished league record…that is something to cherish forever," said Holden.