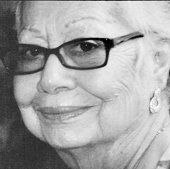 After her fight with lymphoma, Delia Valdez Trevino, 73. of Sunnyside died on Monday, May 19, 2014, completely surrounded by her family and friends at Prestige Care and Rehabilitation, in Sunnyside.
In a worldly sense, Delia did not live what some would call a "notable life." But to those who knew her and loved her, it was notable because it exemplified what truly matter: a life characterized by a deep love for her family, a realization of the necessity of hard work and self-sufficiency, and more than anything else, a spirit of self-sacrifice. With those values, she fought heartache and adversity and made life work for her five children which she raised on her own, many times working two jobs. However, it must be said that, along with the seriousness of contending with life's demands, she still loved to laugh, loved to visit her family and friends no matter, where they were and was truly the "grandma" for her grandchildren and great-grandchildren.
She is survived by her five children: Delma Cruz-Villenueva of Toppenish, Dalia Cruz of Yakima, Patricia Cruz of Portland, Ore., Ruben Trevino of Las Vegas, Nev. and Richard Cruz of Seattle; as well as eight grandchildren and eight great-grandchildren; her brothers and sisters: Bernardo Trevino of Yakima, Francisco Trevino of California, Raul Trevino of Madras, Ore., Vicente Trevino, Jr., San Juana Banuelos and Mary Banuelos, all of Hermiston, Ore., Manuel Casares and Jesus Casares, both of Weslaco, Texas, Maria "Goyo" Gonzales of Wapato, Cruz Cavazos of Grandview, Maria Delia Guzman of Fort Worth, Texas, Melinda Romero of Grand Prairie, Texas and Martha Davila of Sunnyside; along with a number of cousins, nieces and nephews. But what must also be mentioned is the number of family friends who added to her life and whom she embraced as "family".
Delia was preceded in death by her brother, Roberto Trevino; and by her parents, Vicente Trevino and Hermina Valdez.
Viewing and visitation will be held Thursday, May 22, 2014, from 2 to 8 p.m. with recitation of the Holy Rosary at 6 p.m. at Smith Funeral Home Chapel in Sunnyside. Mass of Christian Burial will be held Friday, May 23, 2014, at 10 a.m. at St. Joseph Catholic Church in Sunnyside, with burial to follow at Outlook Cemetery in Outlook.
Smith Funeral Home Ltd. and Crematory in Sunnyside is in charge of arrangements.
More like this story