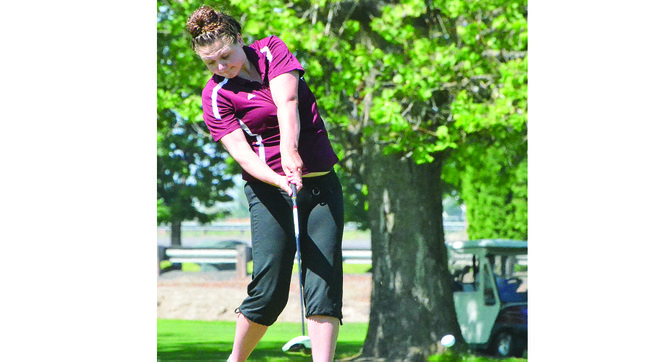 In golf, after writing a 13 on your scorecard, you pretty much know you've shot yourself in the foot and your round is a bust.
That was the scenario for Grandview sophomore Hannah Pond yesterday at the District tourney, staged at Sunnyside's Black Rock Creek Golf Course.
But instead of folding, and after wiping away a few tears of frustration, Pond got down to business and pieced together a workman-like performance over the final 12 holes.
Her reward for the gritty effort?
"She's going to State," exclaimed her coach, Glenn Braman.
Pond's round of 107 (55-52) gave her a 12th place finish at the CWAC District girls golf tourney.
The top 14 finishers at yesterday's District competition now move on to the Class 2A State tourney, to be played out at the Classic Golf Club in Spanaway on May 28-29.
Pond opened Tuesday's District tournament with a bogey on the opening hole.
"She got off to a good start. I didn't follow her around after that," said Braman.
An hour-and-a-half or so later the Grandview coach walked out to find out how Pond was faring.
"I caught her walking between 7 and 8. Hannah was upset…tears in her eyes. She had just taken a 13 on No. 6, chunked a few shots in the pond that guards the green.
"We talked and I just let her know not to worry about it…to finish the front with a couple of bogeys and she'd be fine," Braman said.
Pond took the advice to heart, delivering a couple of bogeys to close out the front.
Buoyed, Pond opened the back side by parring No. 10, following that with a bogey on Black Rock Creek's treacherous, dogleg right 11th.
By the time Braman caught back up with Pond, she was on the 17th green.
"I watched her make a nice five or six-foot putt. She held up three fingers, so I knew she parred the hole," he said.
No. 18 wasn't as kind to the GHS underclassman, as she stumbled in with a bogey-five on the bunker-laden hole.
That left Pond with a round of 107. Being in the second group out, from a field of 47 golfers, a long wait was about to ensue.
"Hannah was sitting in seventh place for quite a while," said Braman. "But then we had to sit and wait for all the groups to come in.
"The problem was, a lot of the girls still on the course had shot a lower front nine score than Hannah did," he said.
As it turned out, Braman said, most of those golfers ran into plenty of challenges of their own on the back nine.
By the time everyone was in, Pond was left with 12th place honors and a berth to State.
To recover from the 13 she absorbed on Black Rock Creek's toughest rated hole – No. 6 – Braman had nothing but praise for Pond.
"It speaks to Hannah's competitiveness," he said. "Taking a 13 on a hole is a tough pill to swallow.
"But she put in the work this season on all aspects of her game, and it showed with her recovering the way she did," he added.
Pond's teammate, fellow sophomore Teagan Parrish, nearly earned herself a trip to State, as well. Parrish carded a 112 on front and back nine scores of 57-55. That left her two strokes shy of the cutline.
Like Pond, Parrish sustained a blow-up on No. 6, taking an 11. She followed that up with a double and triple-bogey. The three nails in her coffin, however, came on the three opening holes after the clubhouse turn, where she went quad, triple, triple-bogey.
Other than those holes, Braman said, Parrish golfed to her ability.
"Teagan's game is improving enough that we really feel she'll be a threat to earn a spot at State next season," he said.
Also competing for Grandview yesterday was sophomore Reagan Colson (75-72 – 147).
The District 5 medalist Tuesday afternoon turned out to be Ephrata's Katie Hilliard. She fired a 14-over-par 86 on front and back side scores of 40-46. Teammate Kendall Sage was the runner-up, one shot back at 87.
East Valley's Shelby Baum posted the third lowest score – a 92.
Other State tourney qualifiers included Tressa Davis of Ephrata (93), Mikala Page of West Valley (94), Kylie Kummer of Othello (99), Morgan Edwards of Selah (101), Luka Van de Merwe of East Valley (102), Karen Woods of Wapato (104), Kaitlyn Autry of Ephrata (106), Alyana Martinez of East Valley (107), Shelby Meyer of West Valley (109) and Frannie Bazaan of Selah (110).