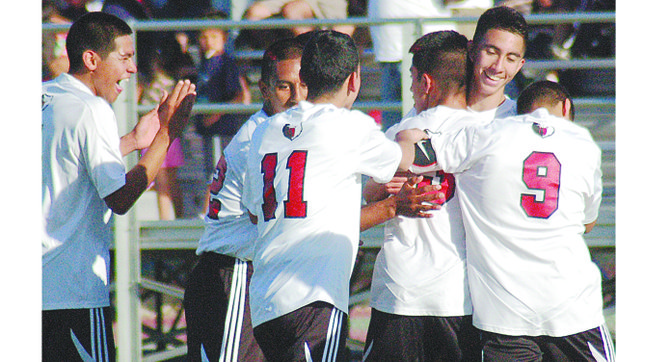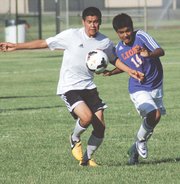 Nick Hytrek slammed the door shut on Sunnyside for 60 minutes last night, before the Grizzly soccer team finally found an answer against the Auburn-Mountainview keeper.
That answer came in the 60th minute off the foot of Noe Meza to earn Sunnyside a 1-0 victory over visiting Auburn-Mountainview.
With Tuesday's win, the Sunnyside soccer team advances to the State quarterfinals for just the third time in school history. Better yet, the Grizzlies get to host this coming Saturday's quarter-final match against Kennewick.
But last night, Hytrek had Sunnyside's number, despite a 14-to-6 Grizzly advantage in shots on goal.
"They had a phenomenal goalie," Sunnyside Co-Coach David Guevara said. "He had four or five great saves. He's about 6-2 and covered that box. He must have had a wingspan of nine feet."
The loser-out match's deciding goal was instigated by Joel Flores.
"Joel made a great move to defeat his defender and get the assist to Noe's feet," Guevara said.
Meza took it from there. Approaching the Lions' goal from the left side, the sophomore defly booted the ball to the right side of the net beyond Hytrek's reach.
"He didn't kick it hard, it was a finesse shot through a couple of defenders' legs," said Guevara. "It's one of those things where the goalie heard it, but couldn't see it until it was too late."
The score was a relief for the Grizzlies, stymied time and again by Hytrek.
"Our guys were getting frustrated, we had quality shot after quality shot knocked away," Guevara said.
Auburn-Mountainview responded to the goal by upping the intensity on offense, especially in the final seven minutes with its season on the line.
"They were not rolling over for us, they had multiple opportunities at the end," said Guevara. Sunnyside anticipated the late surge, and moved its forwards back to defensive mode. "We had to mark every single guy," the coach said.
As it has been all season, Sunnyside's defensive stand was sparked by Jacob Meza, a senior defender who is Noe's brother. "Our midfielders and forwards don't have to worry too much knowing he's back there," Guevara said of the elder Meza.
The Grizzlies also got a big boost last night from Manuel Calvillo. The junior forward has seen extensive time at keeper this season as senior Jorge Villegas has battled through injury. Villegas was injured just prior to last night's match and Calvillo filled in yet again, recording three saves in the Grizzly shut-out effort.
Sunnyside now prepares to host Kennewick this Saturday at 1 p.m. for the second time in a week. The two squared off in a brutal, bloody Regional championship match at Clem Senn Field last Saturday that saw two players ejected.
A win this Saturday will advance the Grizzlies to the first State semi-final appearance in the program's history. It will also clinch the team's first-ever State soccer trophy.
"It'll be a tough and intense game," said Guevara. He noted that Co-Coach Sergio Licona is reminding the Grizzlies to keep their passions in check when they face Kennewick on Saturday.
"Soccer is very emotional and you have to control it," Guevara said. "Sometimes young men react to situations and reacting can hurt our team."
That's the situation for Alexander Marin, Sunnyside's sophomore sparkplug at forward. After getting taken down by Kennewick last Saturday, the forward flailed his legs at defenders and was sent off. The red card required him to miss last night's match, as well as this Saturday's loser-out match.
Marin would be available for the third-place or State championship match in Puyallup if Sunnyside gets past its re-match with Kennewick.
"Alexander has expressed regret to the team," Guevara said. "Now he's going to help our defenders get better."
The Grizzlies are confident heading into Saturday's potential history-making match.
"We feel they have to prepare for us…we don't want to make too many changes," Guevara said. "We will definitely pay more attention to their midfielders and how physical they played. We'll make little changes that can make a big difference."