GUEST COLUMN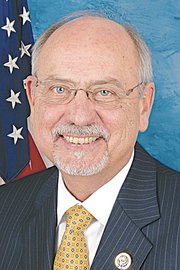 Since 1963, our nation has recognized the importance of small businesses to the economic success of America during National Small Business Week. As a former small business owner, I understand the many challenges employers face. From the family farm to the local manufacturer and retail stores, our small businesses are critical to creating jobs and growing our nation's economy.
According to the U.S. Census Bureau, small businesses make up 97 percent of all employers in the U.S.. In fact, small business owners have created 67 percent of net new American jobs over the past 17 years - making small businesses the backbone of our economy.
Our nation's economy will only go as far as our small businesses will take it. However, the federal government has recently put too many costly and unnecessary regulations in place that prevent small business owners from growing their businesses and hiring more employees.
Today, the regulatory costs of running a small business are 36 percent greater than large corporations. In addition, 3,300 more burdensome regulations are in the pipeline awaiting implementation by the Obama Administration.
To make matters worse, according to the Centers for Medicare and Medicaid Services, 11 million small business employees are seeing their health care premiums skyrocket as a result of the Obamacare mandate. In my view, Congress must continue to cut federal bureaucratic red tape and burdensome regulations, so that American small businesses will have the opportunity to thrive.
The House of Representatives has approved more than 200 bills that lower burdensome taxes, cut bureaucratic red tape, eliminate costly regulations and advance innovation. More than 40 of these bills, which I proudly supported, focus specifically on creating American jobs and encouraging economic growth.
I am disappointed that all of these bills are sitting on Senate Majority Leader Harry Reid's desk. President Obama has repeatedly called 2014 as a 'Year of Action,' but he has yet to use his pen or pick up his phone and call upon the Senate to approve the House-passed jobs bills. I hope that the Senate will soon consider these common-sense measures to provide Americans with better jobs, more opportunities, and a real shot at achieving the American Dream.