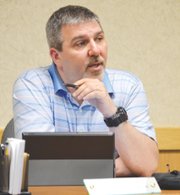 Though making its data available on the internet will still take some doing, the Sunnyside Airport's automated weather observation system (AWOS) can provide residents the latest weather with a simple phone call.
During its monthly meeting on Tuesday of this week the Sunnyside Municipal Airport Advisory Board learned the system is up and running.
While intended to inform pilots on conditions here as they approach the airport, the information is also available to the general public.
Shane Fisher is the city's public works director, and he says getting the AWOS system available on the internet will take some additional steps. He noted the FAA will not allow cities to post the weather information on-line independently.
Instead, cities employing AWOS systems must contract with a private company under FAA guidelines. Fisher noted that the city was unaware of this requirement when it first pursued funding for the AWOS system. He says it's likely the city will need to ante up for a contract with a provider.
Mayor Jim Restucci sits on the airport advisory board, and encouraged the city to make sure it uses a vendor that allows Sunnyside to post the weather updates on the city's website, instead of having to link to another site.
Also at Tuesday night's meeting, board members learned work is still underway to test groundwater at the airport after traces of pesticides like DDT were found. The contamination stems from the fact that in year's past the chemicals were stored at the site. Fisher says there are three monitoring wells at the site, and that Department of Ecology officials will look to do some more testing to determine how widespread the contamination is at the airport. He also told the advisory board it's unlikely any asphalt would have to be removed for the clean-up, as it could disturb the contaminants underneath.
The Sunnyside Municipal Airport Advisory Board will next meet on Tuesday, June 24, at 5:30 p.m. in the Port of Sunnyside board room.