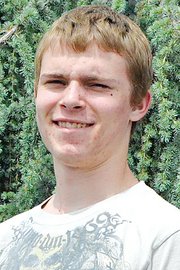 GRANDVIEW – At their May meeting, members of Fred E. Hayes Post 57 of the American Legion selected Brendon Lynch of Grandview as another representative to the Legion's Evergreen Boys State.
Lynch, the son of Mike and Jennie McGhan, is a Grandview resident and is a junior at Grandview High School. He is active in DECA and band and was captain of the swim team this year.
"We are thrilled that Brendon will be representing us," said Robert Gates, local post commander. "He will join Zachary Salinas of Grandview, who was selected last month."
Lynch and Salinas will attend Boys State convention at the Warm Beach Conference Center in Stanwood the week of June 15th.
During the week-long experience, students join several hundred other students from around the state in a hands-on experience in government. They learn what it means to be a participating citizen and how the Washington state form of government operates.
Grandview's American Legion Auxiliary Unit 57 is still trying to identify a young woman from Grandview to attend Girls State.
"We have some leads, but we are essentially out of time to identify someone," said Nancy Davidson, the Auxiliary's Secretary and Girls State Coordinator. The unit is sponsoring a number of young women from Sunnyside and Granger.
"We still want one from our home town," Davidson said. "Young women interested in Girls State may qualify as an alternate if they call now. They may call me at 509-882-1984."
Girls State will be held the same week as Boys State but at Central Washington University in Ellensburg.
Students attending these programs must be in their junior year this year. Home-schooled students may attend as well. Students can earn up to four college credits through the experience. Scholarships may be earned as well.
The local post and unit pays $275 to sponsor the youth. The youth is responsible for $125 registration fee, though they sometimes find sponsors to help with that cost.
Young men interested in Boys State should contact Jim Davidson as soon as possible at 509-830-3849.
"We can accommodate interested youth up until early June," Davidson said.
Donors wishing to help sponsor youth for these two programs may send a check to the American Legion, P.O. Box 56, Grandview WA 98930. Specify if the money if for Boys State or Girls State or split between the two. Donations may be tax-deductible.