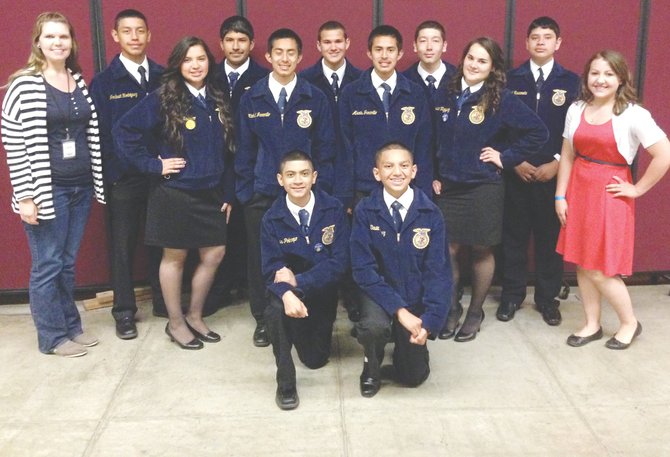 PULLMAN - On May 14 there were 13 members of the Mabton FFA chapter who made the long journey through the Palouse Valley to Pullman. Accompanying them were Mabton FFA Advisor Randi Krieg; Anna Gibson, volunteer; FFA alumni member Nohemi Meza; and parent volunteer Jose Meza.
The select group of junior high and high school students competed at the State FFA convention for five days on the Washington State University-Pullman campus. The convention hosted more than 3,000 FFA members and guests from all over Washington state. The Mabton FFA chapter competed in six career development events, or CDEs.
Career Development Events help students develop the ability to think critically, communicate clearly and perform effectively in a competitive job market. There are 32 CDEs, covering job skills in everything from communications to mechanics. Some events allow students to compete as individuals, while others allow them to compete in teams.
Mabton's food science team consisting of Joshuah Rodriguez, Jessica Vasquez, Alexis Jaramillo and Michael Jaramillo placed 22nd out of 48 teams. The marketing team comprised of Jesus Policarpo, Miguel Gonzalez and Risa Navarro presented their Value Vike Meal presentation and placed 16th out of 20 teams. Miguel Navarrete, Crystal Cruz, Joel Chavez and Edson Rivera placed 40th out of 42 teams in the veterinary medicine CDE. Ty Leyendekker competed in extemporaneous speaking and placed 19th out of 36 students.
Mabton's Miguel Gonzalez, Miguel Navarrete, Edson Rivera, Crystal Cruz, Risa Navarro, Michael Jaramillo, Jesenia Meza, Alex Jaramillo, Joel Chavez, Joshuah Rodriguez and Jessica Vazquez entered an application for the National Chapter Award and earned fifth place honors, competing in a field of 152 chapters. The National Chapter participants will be moving on to compete at National FFA convention this coming October in Louisville, Ky.
As stated by Jesus Policarpo, a Mabton FFA member, "I had lots of fun at State convention. We got to compete. Then, I got to walk around the campus of WSU and got to meet new people while I was there. I hope to go again next year."
-Michael Jaramillo is the Mabton High School FFA chapter reporter.