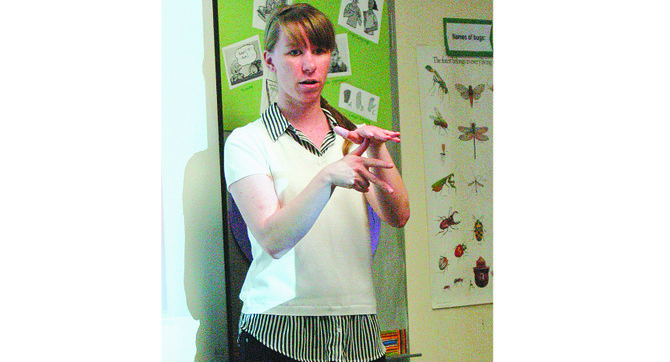 The Sunnyside School District is striving to meet its goal of serving every child. Part of that effort involves beefing up the district's deaf education program.
Although students were served in the past, the district recently hired a new teacher and sign language interpreters. This year, the district also started looking at where students who are deaf were struggling in their work.
"We found that the students can communicate well, but didn't always understand the academic language used in the classroom," said Special Services Director Cody Gardiner. "We decided to work on building up literacy and language skills."
As a result, the district combined elementary and middle school age children into a single block class that drills on the basics.
The effort includes both the middle school teacher, Christine Nguyen, and Heidi Brizendine, who teaches elementary school students. Along with them in the classroom are two sign language interpreters.
"That gives them four adults with sign language skills in the room," said Gardiner.
The deaf education program in Sunnyside serves about a dozen students in its main program with another dozen or so with a level of hearing loss that requires support from the district.
The program is located in three district schools: Chief Kamiakin Elementary School, Harrison Middle School and Sunnyside High School. The fact that all three schools are next to one another is not coincidence.
"The program has to be fluid and flexible," said Gardiner. "Teachers and students move between buildings as needed. It's possible for them to just walk."
The district has been working on building its program to be a hub for services in the Lower Valley. Three years ago the district hired a second teacher, then added a third this year. The district also has three interpreters.
"It's hard to find deaf education teachers and interpreters," said Gardiner. "We're trying to hire another sign language interpreter, but it has been difficult."
In addition to critical personnel, the district also uses technology to help students. An FM transmitter is used by teachers or interpreters in the classroom to speak directly into students' hearing aids.
Gardiner said the program has been slowly pieced together, starting with the efforts of Ty Thornock, who is now at the high school.
"He taught a group of kids in elementary school, then in middle school, and followed them up," said Gardiner.
Gardiner said that with three teachers, the district can push the program and fully meet the needs of students.
"Now we have enough resources in place to really help our students," he said.
As a result, the district has some students from other areas, including Toppenish and Grandview. The program also has a good role model in its newest teacher, Nguyen.
"She's completely deaf," said Gardiner. "She shows the students what they can do."