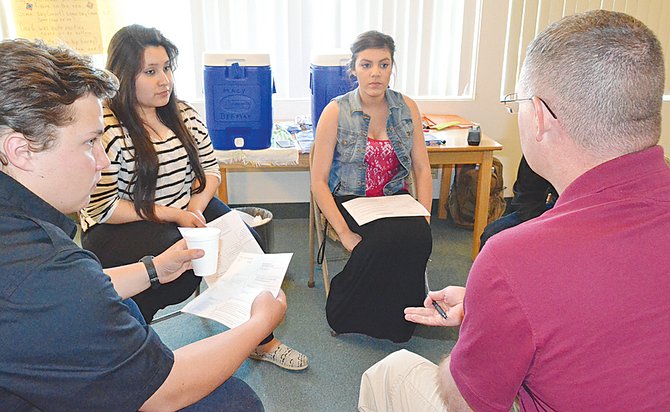 Sunnyside United, an adult coalition formed with the objective of identifying drug and alcohol problems, and Lead and Seed students, the youth coalition formed for the same purpose, held a joint meeting yesterday.
The two groups met to discuss ideas and programs the youth can stand behind, as well as to discuss alcohol and marijuana use among youngsters in Sunnyside.
Sunnyside United Coordinator Cathy Kelley had the youth and adults break out into four groups in which the issues were discussed as part of a "logic model."
"We want input from everybody," said Kelley, stating the teens from Sunnyside High School know what issues students face and are familiar with the attitudes about drugs and alcohol among their peers.
The teens talked with the adults about the availability of marijuana and alcohol in the school environment, as well as outside of school.
One group concluded marijuana is easy to access. Tahlia Gonzalez said students need only to ask their peers and can either find someone on campus who is willing to provide others with marijuana or "someone who knows someone."
She said, "If the person you are talking to doesn't have access they may have a friend or someone else they can ask."
There are some teens at SHS that have family members who provide access to marijuana, according to another teen. However, those situations are more infrequent, according to the students.
The students said most parents want their children to live a healthy lifestyle.
"Depending on the health of the family, there are students with access to marijuana at home," said one young lady.
Carina Gonzalez said peers sometimes pressure one another to use marijuana through bullying tactics.
Tahlia Gonzalez said there are those among Sunnyside's student population who use excuses, stating marijuana "is legal."
The students in one group were asked by Sunnyside Police Commander Phil Schenk if they believe Sunnyside High School is an exception or if they believe other schools face some of the same issues.
The students in the group said they believe other schools have the same problems.
A group that discussed alcohol use said access to alcohol is typically via older friends or extended family members.
They also said there is a different attitude about alcohol use between males and females. Males, they said, tend to drink alcohol more frequently.
When asked where most of the students have learned about the dangers of drugs and alcohol, many indicated they have learned through programs and presentations at school.
Parents, the teens shared, do not have sit-down discussions, but direct their children more informally. One students said her parents would direct her by saying "Be safe, don't drink, don't do drugs" as she walks out the door.
In addition to the discussions, the Lead and Seed group has been working to develop projects aimed at teens in the community.
The projects range from a hotline for anonymously reporting party locations to PSAs announced at the beginning of the school day.
The youngsters said they are excited about the projects they are working on.
"I have learned a lot of information," said Mitchell Reid, a freshman at Sunnyside High School.