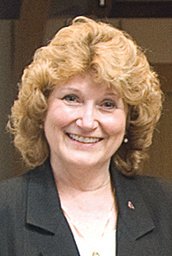 This is Memorial weekend. On Memorial Day I especially remember my Grandfather. Each Memorial Day he would go out early in the morning to pick wild flowers to put on his mother's grave.
My great grandmother was a pioneer wife who homesteaded with her husband on the prairie of South Dakota. She did not have the luxury of a "citified" garden with cultured flowers. She made do with the wildflowers of the prairie and instilled a love of native prairie flowers in her children.
It made sense to my Grandfather to honor his mother with wildflowers. For me, Memorial Day became a special time to share with Granddad.


Once the flowers were gathered it was a short trip to the cemetery where we would place the flowers on my great-grandmother's grave. Domestic flowers cut from Mom's garden would be used to decorate the graves of other relatives and dear friends. Then we would stay at the cemetery and listen to the high school band play some patriotic songs. Someone would give a speech about the meaning of Memorial Day and the commander of the local American Legion would read General Logan's Orders.
As a child I didn't fully understand the significance of Memorial Day, but I knew that it was an important day that all Americans should observe.

As an adult and as a pastor I find myself frustrated with the way we observe Memorial Day nowadays. The Memorial Day holiday presents a dilemma. I think of myself as a faithful and patriotic American. I want to show my respect for those who gave the ultimate sacrifice so that our country remains free. I am saddened that so few people seem to observe the day by remembering the men and women who gave their lives for our country.
But, as a pastor I am even more frustrated by people who think that we should make this national holiday the focus of our Sunday morning worship service on Memorial Day weekend.

Is it not the task of the church to celebrate the resurrection? Yes, we can appreciate what men and women have done to give us freedom, but should we not give more attention to what God is doing to make us free?
There is a story about the Apostle Paul found in Acts 16:16-34. In this story, Paul and his sidekick, Silas, are preaching and having success. One day they encounter a slave girl who has a spirit (think demon) that allows her to tell fortunes. Her owners make a lot of money because of her gift.
She started following Paul and Silas around shouting, "These people are the servants of the Most High God. They are proclaiming a way of salvation to you!"
After several days, her shouting annoyed Paul so much that he commanded the spirit to leave the girl and it did. When the girl was no longer able to tell fortunes, her owners were very upset. They had the authorities put Paul and Silas in prison.
So, who is truly free?

The slave girl seems to capture our cherished right to "Freedom of Speech." She is speaking the truth freely when she declares that Paul and Silas are servants of the Most High God. But, in truth she has no choice. Not only is she in bondage to the demon who forces her to speak, she is also in bondage to the men who own her.

What about her owners? They seem to be free until someone upsets their source of income. Then it's clear that they are in bondage to money. They don't care that the slave girl is free of the demon. All they are concerned about is their lost income.

What about the city officials who are sitting in judgment on the affairs of the city? They are charged with making decisions based on fairness and honesty and what is in the best interests of all the citizens. But, the truth is they are in bondage to the businessmen who financed their last election campaigns. The elected officials make their decision to incarcerate Paul and Silas based on their desire to protect their community from outside influence and to protect their own jobs. They are in bondage to their own sense of nationalism and tradition.
Only Paul and Silas who, though they are locked up in chains, are truly free. In spite of their chains, they sing. They celebrate. They pray. They recognize God in the midst of their situation. They live in confidence that no matter what the situation, God is with them and will not leave them without support.

Most of us live in bondage. We have become slaves to our clocks and calendars. We are in bondage to our schedules and jobs. Some of us live as prisoners of our families and their desires and wishes. Individually and as a nation, we are slaves of security - both financial and emotional.
This Memorial Day I encourage you to celebrate and honor those who laid down their lives for our country and those who are still on the front lines ensuring that Americans can live free.
But, I also encourage you to celebrate the ONE who laid down his life so that we might know true freedom. Set aside those things that keep you a slave and give yourself to Christ Jesus so that you might know the freedom that God gives.

‑ Rev. Pat Beeman is pastor of the Sunnyside United Methodist Church.