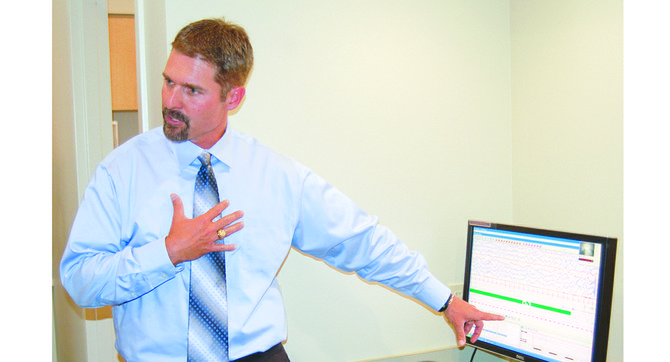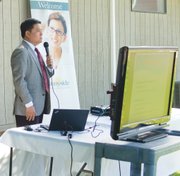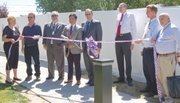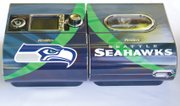 Sunnyside Community Hospital's new Sleep Disorders Center was opened yesterday morning with short speeches, a light luncheon and a tour of the facility.
John Gallagher, CEO of the hospital, said that 50 to 70 million people suffer from sleeping disorders. He said when the hospital polled local residents, the need for a sleep center was high on the list of priorities.
As a result, the hospital hired Dr. Bryan I. Santiago, a certified sleep medicine specialist, last autumn. He's been conducting home sleep tests from Grandview Medical Center, but now will have a full suite of tools to help local residents with sleeping problems.
Santiago spoke about sleeping issues at the ribbon cutting yesterday, noting that while most adults need between seven and nine hours of sleep each night, the average that people get is only six hours and 55 minutes.
"Lack of sleep can result in a loss of work productivity," he said.
He compared driving without enough sleep with drunk driving, noting that people who are operating on only five hours of sleep are equivalent to someone with a blood alcohol level of 0.05 percent, which he described as the point at which impairment becomes a problem.
"New electronics are also making the problem worse," he said. "You need to shut down gadgets at least 45 minutes before going to sleep."
He also said that a lack of sleep makes a person hungry, which contributes to the obesity problem.
Santiago also spoke about types of sleep problems, including sleep apnea, insomnia and restless leg syndrome. He finished his speech with a lot of information on sleep apnea, including the fact that it's been linked with obesity and Yakima Valley has been declared the fourth most obese region in the United States.
After his speech, the crowd was able to tour the new facility, visiting the two sleeping suites to check out the amenities. Each suite has a private bathroom, a comfortable lounge chair and a television.
The stations for the polysomnographic technologists, who monitor the sleepers and interpret data, sit directly outside the rooms. J.J. Matzke, president of Sleep Elite, was available to explain the monitoring process to visitors. Sleep Elite is working with the hospital to provide the work stations and technologists for the facility.