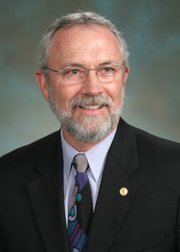 YAKIMA - The Dan Newhouse for Congress campaign announced yesterday the campaign chairs of its county organizations.
These organizations are responsible for the volunteer activities that take place at the grassroots levels, including doorbelling, get-out-the-vote phone calls, parades and yard signs distribution.
"I believe a campaign cannot be successful unless it has a strong grassroots component," said Sunnyside-area farmer Dan Newhouse, the former Director of the Washington State Department of Agriculture.
"I love the team we have assembled. We have many people who are experienced at running successful campaigns in their communities.
"I look forward to working with them over the next five months as we will take our campaign to all corners of the district."
The campaign chairs for the Newhouse county organizations include:
…Adams County - Betty Hanes, Adams County State GOP Committeewoman
…Benton County - Jerome Delvin, Benton County Commissioner
…Douglas County - Jon Wyss, Douglas County State GOP Committeeman
…Franklin County - Brenda Alford, Former County GOP Chair
…Grant County - Chris Voigt, Executive Director, Washington Potato Commission
…Grant County - Ed Field, Executive Director, Washington Cattle Feeders Association
…Okanogan County - Sheila Kennedy, Okanogan County Commissioner
…Okanogan County - Joel Kretz, State Representative, 7th Legislative District
…Yakima County - Kevin Bouchey, Yakima County Commissioner
…Yakima County - Maureen Adkison, Yakima City Council Member
"The 4th Congressional District's economy revolves around agriculture with over 11,000 family farmers and ranchers representing $4 billion in crops and livestock market value, along with over $2 billion in food processing sales," Douglas County Campaign Chair Jon Wyss said of Newhouse, a former three-term state legislator.
"I don't believe there is any person more knowledgeable about farming issues than Wyss added. "I am honored to be part of his team and I ask you to join me in doing all we can to make sure Dan represents us in Congress."
Franklin County Campaign Chair Brenda Alford said the Obama Administration has made a mess of the health care system. "People are confused and are now very worried about skyrocketing premiums.
"It is time to send people like Dan Newhouse to Congress to bring some common sense to this issue," Alford said.
Those supporting the Sunnyside-area farmer in his bid to replace retiring U.S. Congressman Doc Hastings said the formation of a strong grassroots organization has resulted in the campaign leading the field of candidates in fundraising during the first quarter. They also noted Newhouse has obtained the endorsements of nine current Washington legislators who represent portions of the 4th Congressional District.