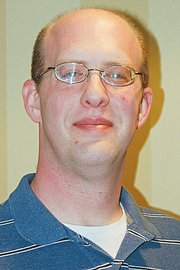 Age: 34.
Spouse: Beth Smith.
Children: None yet.
Occupation and place of work: Assistant General Manager at Best Western Grapevine Inn.
My favorite part of the Yakima Valley is... the diversity of the people living here.
When I was a child, I wanted to grow up to be... an astronaut.
First job I ever had was... line cook at McDonald's.
If a movie was made of my life, the actor/actress I'd want to play me is... Anthony Edwards.
The best gift I ever received was... my wife saying yes to marry me.
The best piece of advice I ever received was... life is not full of mistakes but challenges for the future.
My favorite dessert is... pumpkin pie.
One of my most memorable moments, besides getting married or having children was... going to Blizzcon and meeting our online friends from around the world.
If I could witness any event past, present, or future, I would want to see... the world able to free everyone from the poverty and famine we face today.
I'd love to learn how to... speak more languages.
The furthest I have been away from home is when I went to... Verona, Pa. to visit my wife's family.
My favorite leisure activity or hobby is... PC gaming and Android programming.
If I didn't have to worry about money, I'd spend my time... helping family, friends and people not worry about money and live life.
The one word that best describes me is... driven.
If I could change one thing about myself it would be... nothing, as I wouldn't be myself anymore.