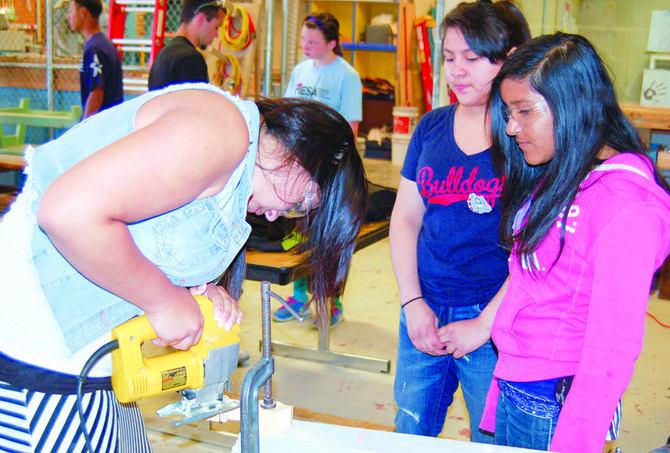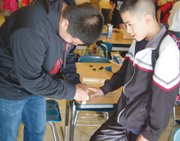 Generations of Cub Scouts have faced the engineering challenge presented by the Pinewood Derby races, and now Harrison Middle School STEM (science, technology, engineering and math) students are learning the secrets of making the small wooden vehicles race as fast as possible.
In constructing a Pinewood Derby car, competitors use a basic kit consisting of a block of pinewood, four plastic wheels and four nails and turn it into a racecar. The various cars are placed on a sloping track and are propelled entirely by gravity.
The Harrison STEM program received a generous donation of kits from Dylan Gardner, local pharmacist and the school board vice president.
The sixth-grade students learned some of the secrets of building a proper derby car, including how to shape the vehicles and where the weight needs to be balanced for the car to run faster.
"The weight needs to be balanced toward the back so it goes further along the track," said Harrison student Chantal Bravo. "If the weight is at the front of the car, it will stop as soon as it's off the slope."
Each Harrison student planned how they wanted their cars to look, and documented their ideas. They then drew cutting lines on the wood blocks. Then the Harrison students turned to older students in the district for some help.
"We teamed up with the high school students for some of the building process," said advisor Darla Van Corbach.
At Sunnyside High School, a group of students assisted with the actual manufacturing of the vehicles, using jigsaws and power sanders to shape the cars, then assisting with paint jobs.
The results weren't always what the younger students wanted.
"It can be hard to keep the cuts along the lines," said Cynthia Vargas. In some cases, the pinewood blocks had to be replaced after a jigsaw went the wrong way.
"It's a learning experience for all the students," said Van Corbach.
The students had a couple of weeks to work on their vehicles and will race them tomorrow morning (Wednesday). The track is being loaned to the school by local dentist Doug Rodriguez.
"He'll be out to set it up tonight and then help run the competition tomorrow," said Van Corbach.
The experience has been useful for both groups of students. Older students, such as Vargas, noted how difficult it can be to follow another person's plans and make them come true.
The younger students, such as Sebastian Ruiz, said they learned a lot as they watched their plans turn into reality.
"It's been a lot of fun," said Ruiz. "I like seeing it take shape."