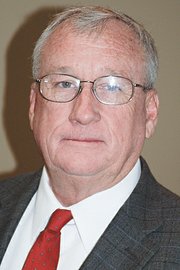 The Sunnyside City Council is pretty happy with the performance of City Manager Don Day.
At last night's meeting, the council presented its review of his performance from August 2013 through April 2014, rating his work as satisfactory or above average in all areas.
The council noted that Day had not been on the job long enough to be properly evaluated in some areas, and those were not used in the overall score the council gave him last night.
The council indicated three areas of concern, including citizen relations, policy execution and supervision.
In regards to citizen relations, the council stated that Day "needs to be mindful of council's position on sensitive city issues and to communicate his position (to the council) prior to media and public."
However, under the same category, Day received high marks from council for responding to citizen complaints.
The council also felt, regarding both policy execution and supervision, that Day needs to improve his knowledge of Washington state law.
Day was also given high marks by the council for his professional skills. The council noted that he has hired a new police chief, helped manage staff during the fire station upgrade, is working with staff to migrate the city's financial software and has also been working on solving problems in the city's budget.
Day said he was satisfied with the performance review.
"I felt it was fair and less critical than I would have been to myself," he said.
The council declined to offer the city manager a pay raise at this time, but said it may be discussed at his next performance review, which is due to be conducted and completed no later than Sept. 30, 2014.