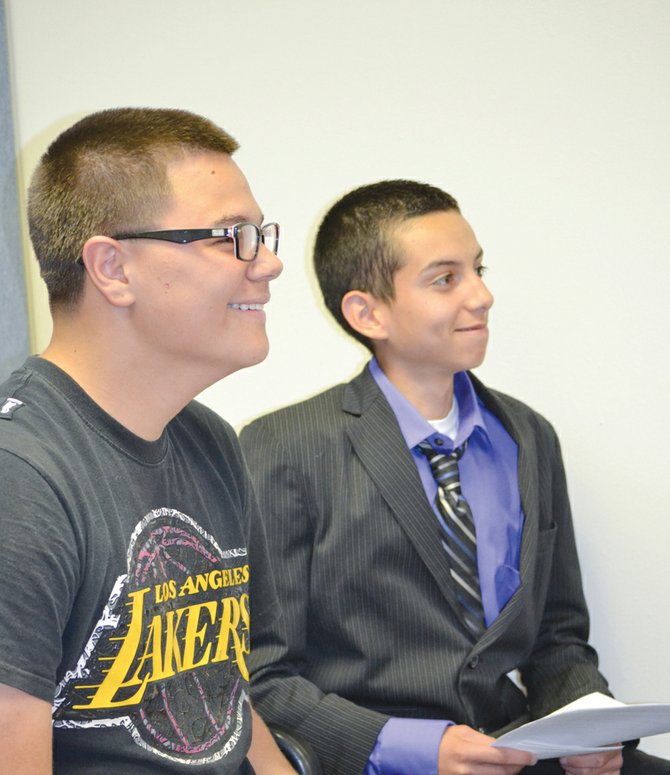 MABTON – Giving a moniker to a long-unnamed park and planting more trees are part of the vision for the Loving Mabton Project proposed by eighth graders Diego Garza and Nicholas Mejia.
The students presented their plan last night, Tuesday, to the Mabton City Council.
Garza and Mejia asked council if their AVID class – a program to prep students for high school and college – could come up with a name for the park known unofficially as the water tower park.
Their plan is to come up with a name for the park reflecting Mabton's history.
Council gave the class its blessing, asking Garza, Mejia and classmates to involve their school and community to bring back about three names for city council to select from. Councilwoman Vera Zavala also asked if the class could develop park names that incorporate a theme.
The students said their AVID class received a $600 grant, and they would like to use those funds to develop a sign for the park once it's named.
Mejia also said his class has put a priority on having more trees planted in Mabton and to expand the city's hanging flower basket program to other areas of town.
He said historical signs around town would be nice, noting for example the gazebo at Feezell Park is more than 100 years old. Mejia also said more can be done to remove graffiti in Mabton.
"We need people to have tenacity to clean graffiti the day after it appears," he said. "If we work together we can make this happen…it's a heap of work but we can do it."
The students' efforts met with praise from council, who exchanged phone numbers with the teens to discuss future improvements for Mabton.
"We need you guys. The more you get involved, the better everything's going to be," Mayor Mario Martinez told the youths. "Keep working hard and keep getting after it."