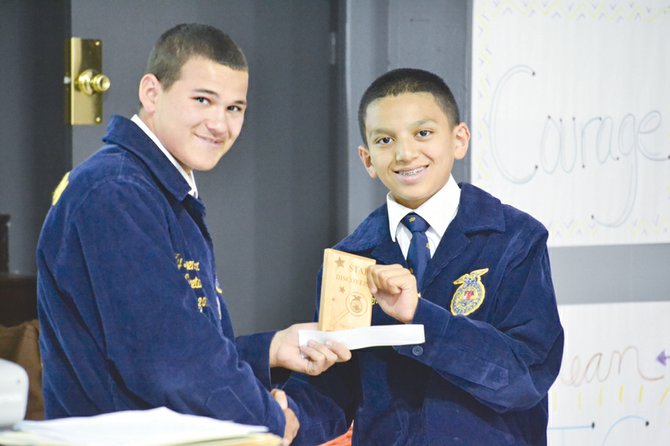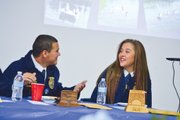 MABTON – During a dinner awards ceremony this past Tuesday night, Mabton Junior Senior High School honored student, staff and community volunteers involved in the FFA program.
A highlight of the evening was the announcement that Mabton's FFA team earned fifth-place honors out of 152 state chapters. The team of Joshuah Rodriguez, Miguel Gonzalez, Risa Navarro, Miguel Navarrete, Edson Rivera, Jesenia Meza, Alex Jaramillo, Michael Jaramillo, Joel Chavez and Jessica Vasquez will receive a national award for their effort in Louisville, Ky. later this October.
Also honored Tuesday night were recipients of the 2013-14 Discovery degree: Jovani Amezcua, Maria Leon, David Jimenez, Elvia Quintero, Jessica Gorman and Melissa Rivera. The Star Discovery degree recipient was Jimenez, a junior high FFA delegate at the state convention.
Earning the Greenhand degree were Miguel Gonzalez, Mauricio Cardenas, Adrian Quintero and Humberto Espinoza. Gonzalez garnered the Star Greenhand degree for his help in facilitiating a fair booth in Yakima.
Garnering Chapter degree honors were Daniel Bedolla, Joel Chavez, Crystal Cruz, Jessica Vasquez, Joshua Rodriguez, Risa Navarro, Jesus Policarpo, Alexis Jaramillo, Michael Jaramillo and Miguel Navarrete. The Star Chapter degree was presented to Vasquez for her efforts that included serving as the chapter's sentinel and placing fourth at districts in job interview.
Amber Armendariz earned the 2013-14 Star Citizenship Award for her efforts that included volunteering at Sunrise Outreach in Yakima and the local Mabton Food Bank.
The DeKalb Leadership Award was presented to Ty Leyendekker, the Mabton chapter vice president. An FFA member since eighth grade, Leyendekker was honored for efforts that included community service and helping with the chapter's entry at the fair in Yakima. The award is sponsored by the DeKalb Corporation and is given each year to the outstanding senior member of the chapter.
The evening also featured appreciation awards to many who helped the Mabton FFA program during 2013-14. Appreciation awards were presented to Laura Vazquez, Karen Mendoza, Nohemi Meza, Bryan Arellano, Jesus and Shandee Sustaita, Nurse Cindy and Andy Howe, Carol Ashby, Brock Ledgerwood, Northwest Horticulture, Mercer Canyons, Elsa Sanchez, Daily Sun News, Tanya Gaston, Sue Sartain, Caleb Oten, Minerva Morales, Bill Roettger, Daniece Roettger, Rick Kernan, Jose Meza, Nick Sustaita, Vickie Navarro, Teresa Vargas, Olga Parulkar and William Schmick.
In addition, an Honorary Degree was presented to Lisa Gorman for her help in supervising a corn maze and other activities that included a Blue and Gold tour and cutting wreath greens.
Tuesday night also saw presentation of the following agricultural proficiency awards:
Diversified Horticulture Placement, Jessica Vasquez; Floriculture Placement, Amber Armendariz; Swine Production Entrepreneurship, Risa Navarro; Beef Production Entrepreneurship, Joshuah Rodriguez; Diversified Livestock Production Entrepreneurship, Miguel Navarrete; and Fruit Production Placement, David Jimenez.
In other honors announced Tuesday night, several awards were noted related to career development events sponsored by FFA:
The first-year member team of Esmeralda Arteaga, Emmanuel Diaz, Yoselin Mendez, Marco Sagrero and Jovani Amezcua earned second-place honor at Districts.
The food science team of Joshuah Rodriguez, Alexis Jaramillo, Michael Jaramillo and Jessica Vazquez placed 22nd out of 48 teams at State.
In the job interview competition, Jessica Vasquez was fourth at Districts.
Also, the livestock judging team of Vasquez, Alexis Jaramillo, Crystal Cruz, Jose Cruz, Michael Jaramillo, Joshuah Rodriguez, Jesenia Meza, Jessica Gorman, Joel Chavez, Miguel Navarrete, Daniel Bedolla and Ty Leyendekker comped at three regional fairs.
Further, Leyendekker and Meza were Sub-District participants in prepared public speaking.
A Sub-District participant in Creed Speaking, presenting the FFA Creed and its purpose from memory, was David Jimenez.
Leyendekker was also recognized for earning third-place honors in Districts and 19th place at State in extemporaneous public speaking.
Placing 40th at State was the Veterinary Science team of Crystal Cruz, Miguel Navarrete, Edson Rivera and Joel Chavez.
Garnering first-place honors at Districts was the marketing plan team of Risa Navarro, Jesus Policarpo and Miguel Gonzalez. The team was 16th at State.
Tuesday night's awards banquet at the Mabton School District's learning center also recognized the following members in good standing who paid their dues but did not meet one or more requirements of their degree level: Jacqueline Flores, Emmanuel Diaz, Mauria Navarrete,Yoselin Mendez, Jesenia Meza, Hunter Wentz, Felicia McDaniel, Kaitlyn Ott, William Zaikawsky, Amber Armendariz, Jose Cruz, Edson Rivera, Marco Sagrero, Angel Sanchez, Chenoa Silva, Esmeralda Arteaga, Lyndsey Roy and Selene Aguado.
The banquet concluded with announcing Mabton FFA officers for 2014-15: President Jessica Vazquez, V.P. Risa Navarro, Secretary David Jimenez, Treasurer Joel Chavez, Reporter Miguel Gonzalez, Sentinel Jesus Policarpo, Community Chairperson Edson Rivera and Chapter Chairperson Crystal Cruz.