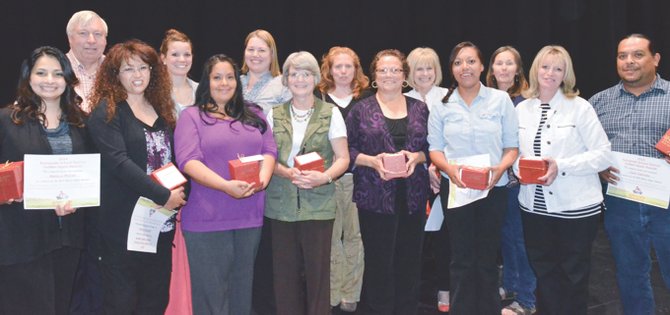 The Sunnyside School District takes pride in the quality of education delivered by its many teachers and staff.
Last night the district held its annual Golden Apple Awards ceremony, celebrating the dedication of 15 staff members who have demonstrated their hearts are committed to the education of Sunnyside's students.
"It took hours of pouring through all the nominations to come up with a recipient," Sunnyside Superintendent of Schools Rick Cole said.
Named 2014 Administrator of the Year was Jeri Paulakis, Sun Valley Elementary School assistant principal.
She was nominated by the Sunnyside School Board of Directors.
The directors said being the assistant principal of a school full of nearly 500 five and six-year-olds is not an easy task, "…yet Jeri Paulakis has embraced and excelled in her role as assistant principal of Sun Valley Elementary.
"She supports the safe and effective operation of her school with a level of dedication to the details that is second to none," the school board said in nominating her.
Cole said she was recognized for developing "meaningful and positive relationships with staff."
Paulakis said, "I am so proud to be a part of this district…I am so proud to be part of this team."
She said Sunnyside is a great community and she is grateful for her job and husband. She also said the staff at Sun Valley is very supportive.
Presented the Golden Apple Elementary Educator of the Year Award was Erica Mendez, a kindergarten teacher at Sun Valley Elementary School.
Mendez was nominated by Silvia Mondragon, who said, "Ms. Mendez is what every educator strives to be. Her dedication to students does not stop in the classroom; she has continued her education while enriching her students. Students that are in her classroom leave with a positive memory most don't want to leave! She is dedicated to the success of every single student she teaches."
The Secondary Teacher of the Year is Sarah Podvin, a sixth grade teacher at Harrison Middle School.
Liz Robert, in her nomination letter, stated "(Podvin) embodies the quote from the Friday Focus, "Planting the seeds and nurturing growth, creating just the right conditions for success" throughout the year.
Robert said Podvin has worked diligently to maintain a classroom environment that embraces a level of academic rigor and student engagement that consistently moves forward.
"Every lesson is delivered with an energy that sustains active interest for all students. She has an instinct for knowing which scaffolding techniques, expanded explanations or instructional adjustments are needed to hook students - just enough, just in time."
Sandy Schilperoort, a literacy coach at Sunnyside High School, was also presented a Golden Apple for Secondary Teacher of the Year honors.
She was nominated by Angel Carrizales, who said, "Sandy Schilperoort is truly an amazing educator and is the backbone of the English department at Sunnyside High School…
"She absolutely ignited our staff's minds and hearts last year to improve literacy in their classrooms by making data-based decisions while focusing on supporting students to be their best. Because of this focused work, our HSPE scores increased to a record high. This year, she has built in systems of support to ensure that we improve again and with the help of our teachers, we saw our senior collection of evidence scores double from last year."
Schilperoort spoke to the crowd, stating she is proud of the community of Sunnyside and the students within the school district.
She said her granddaughter, who will be a senior at Sunnyside High School next year, represents the fourth generation in her family to attend Sunnyside schools, making her proud of the many achievements of those who graduate from SHS.
"We have great kids here," said Schilperoort.
Presented the award for Specialist of the Year was Sara Vega Evans, a counselor at SHS.
Talitha Ormberg, who nominated Vega Evans for the award, said the counselor has been her rock while working with students this year.
"They aren't just her students, they are our students. She is very clear in communicating to teachers that she has shared ownership over those students' success in the classroom and on state exams. She is open and wiling to any times that I send a student down to her in need of a pep talk. She will discuss their actions and behaviors with them, in essence counseling them to get back on track," said Ormberg.
She said, "She (Vega Evans) is a quiet leader with our students and with our teachers. She has been inspiring to me this year to be a better teacher and to try things with our students."
Washington Elementary School secretary Monica Moran was presented the 2014 Golden Apple as this year's Secretary/Office Staff Member of the Year.
Nominating her for the honor was Linda Richman, who said Moran is kind, patient and considerate to all staff and parents.
Richman said Moran is an integral member of the staff at Washington Elementary School, ensuring all staffing needs are met and helping those in need.
Presented the Support Staff Member of the Year Award was Ivy Weets, who is the payroll coordinator for the school district.
"Ivy is the bearer of all knowledge when it comes to our district's health care information, leaves, payroll issues, etc." said Jaime Tobin.
Tobin said Weets is helpful when questions arise and her support is greatly appreciated.
Also recognized with a Support Staff Member of the Year Golden Apple Award was bus driver Juan Galindo.
Mondragon nominated Galindo because she believes "Juan provides a friendly, yet firm approach to ensure the safety and security of every child entrusted to his care on daily routes to and from school."
She said, "My child looks forward to the bus rides and interacts with her driver every day, she feels safe and accepted."
The Golden Apple for Volunteer of the Year was presented to Jeanette Porter, who volunteers at Outlook Elementary School.
"Mrs. Porter's contributions align with the district's vision of success simply because she believes that all students are capable of achieving success regardless of any limitations they may have," said the person who nominated her, Andrea Gibb.
"Whether she is working with one student or a small group of students, each one of them knows that she will do whatever it takes to help them meet their goals," said Gibb.
Susan Copenhaver, a volunteer at Pioneer Elementary School, was also presented the Volunteer of the Year award.
She was nominated by Robin Thomas, who said Copenhaver has focused her volunteer efforts on stimulating the students, engaging them in the Math is Cool program.
"I have seen her patience, her love and extreme knowledge of math, and her true compassion for these kids just shining through the classroom," said Thomas.
The Substitute Teacher of the Year is Jake Van Pelt.
Nominated by Cricket Van Pelt, he is credited for loving the students and gaining their trust.
"Even though I am his wife and there will be no living with him…Jake is a great teacher."
Presented the Para-educator of the Year Golden Apple Awards were Jan Schwisow of Pioneer Elementary School and Chief Kamiakin Elementary School's Rosalinda Sanchez.
"Jan Schwisow is one of Pioneer Elementary School's best kept secrets," said Billie Parke, who nominated Schwisow.
"She is a paraprofessional in the LAC classroom at Pioneer Elementary School. She sets the bar for Sunnyside School District's vision of success for all students. She works with our most intense students and gets them to make gains each and every day in a positive and caring manner," said Parke.
Renae Graton said, "Rosalinda (Sanchez) believes in her students' abilities and continually pushes them to exceed their given expectations for learning. She takes no time for herself, but instead pours everything she has into pushing them to learn."
Also named Para-educator of the Year was Carmen Driesen of SHS. She was nominated by Graciela Bravo-Black.
"Carmen Driesen is a dynamo of activity. She has developed a system that serves notice to students who are to serve after school detention. During fifth period the students receive a bright strip of paper with their name and reason for being required to stay after school.
"As for Carmen's duties in Credit Retrieval she takes it upon herself to guide the students step by step to produce well-made, written reports and timelines of historical events and people. She patiently helps the students learn how to find the information in social studies textbooks and in the internet. If she notices a student struggling with mathematical concepts in their Apex courses, she promptly gathers paper and pencil and guides the student through the steps to learn the math concept," Bravo-Black said.
Another Para-educator of the Year Golden Apple Award winner was Jessica Tovar of Harrison Middle School.
Tovar is credited by Gerry Muller, who nominated her, for her compassion. "I have had the honor of working side by side with Miss Tovar in the ELL department the last three years and every day for those three years she has never had a single (not one) bad thing to say about anyone in this world.
"She loves the people she works with and sees life very positive. I believe that Miss Tovar has made me a better teacher and also a better person, especially on days when I have felt beaten and tired. Her presence in the classroom, in the hallways and all around the school has been felt by the students she works with."
Two parents were also recipients of the Community Leadership Award for being an example of exhibiting pride in athletic programs within the district. Alicia Alvarez and Ernesto Ramirez were lauded for volunteering their time and showing dedication to the athletes.
"We recognize these people as heroes," Cole told those attending the ceremony.