RELIGIOUS REFLECTIONS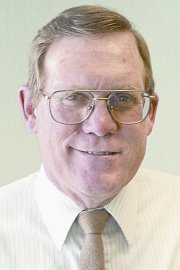 While at a convention in Indianapolis a couple of weeks ago I took the opportunity to visit the Speedway, home of the Indianapolis 500. Since it was only a week and a half before the big race I had opportunity to see the cars practicing for their qualifying runs.
They run faster in practice than they do in the race. Most cars were flying by at 226 miles an hour on the straight-of-way. This represents quite a change from the very first 500-mile race where the winner, Ray Harroun, driving a Marmon-Nordyke "Wasp", averaged 74.59 mph and a total time of 6 hours and 42 minutes.
Now, the race takes just around two and a half hours from start to finish.
It was amazing to me the speed the current cars were able to accelerate to, after navigating the corners; and how close to the wall they came to make the corners. The drivers must have tremendous concentration and driving skills honed to perfection to keep their cars on the track and avoid crashing into the wall or spinning out.
There is no allowance for any Indy car driver to relax his concentration or focus on his driving or he will end up in the wall.
The Scriptures tell us that we need the same type of focus in our spiritual lives. I Peter 5:8 "Be of sober spirit, be on the alert. Your adversary, the devil, prowls around like a roaring lion, seeking someone to devour."
In other words, the Christian life is not something we take for granted or treat carelessly, or we too can crash into the "wall".
Hebrews 12 tells us "Therefore, since we have so great a cloud of witnesses surrounding us, let us also lay aside every encumbrance and the sin [lack of faith] which so easily entangles us, and let us run with endurance the race that is set before us, 2 [a]fixing our eyes on Jesus, the [b]author and perfecter of faith, …".
The secret of winning the race of life is keeping our eyes of faith fixed and focused on Jesus every day as we run the race in our daily lives with pit stops of daily Bible reading and prayer. Then we will all be winners speeding into eternity at speeds faster than the speed of light.