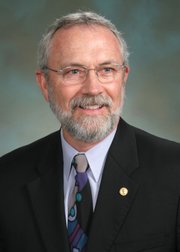 While not all the votes have been counted in the Fourth District Congressional race, Sunnyside-area farmer Dan Newhouse has claimed an early, if narrow lead over his challenger, Clint Didier of Eltopia.
Following the close of the election polls Tuesday night, Newhouse had tallied 52.6 percent of the votes counted, 46,992 in all. In just Yakima County, 61 percent of the voters supported Newhouse.
Didier, with 43,958 votes, had collected 48.3 percent of the votes from throughout the multi-county region that makes up the Fourth Congressional District.
In a telephone call late Tuesday night, Newhouse said he liked the trend the votes were taking and remained optimistic about the eventual outcome.
"I'm feeling good about the current outcome," he said, noting he was not ready to declare a victory as yet. Newhouse, a conservative Republican, faced Didier, who has campaigned as an anti-government Republican candidate, in a race to replace longtime Congressman Doc Hastings, who chose not to run again at the end of his current term.
Newhouse, who served as a state legislator from 2003 to 2009, also served as the director of the Washington State Department of Agriculture from 2009 to 2013.
Didier has ran unsuccessfully for a number of elected offices in the past, including the governor of Washington.
Reacting to the sweep of Republican candidate wins over Democratic candidates in races across the nation, Newhouse said he felt the outcome will be good for Congress. "It should help to stop the current stalemate in Congress and get more issues to the president's desk," Newhouse said.
While calls to Didier went unanswered, area media reported he is unwilling to concede the race, holding out for the final tally of votes from all counties in the Fourth District.
More votes are expected to be counted later today (Wednesday).