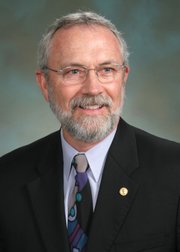 Nearly a week after the Nov. 4 General Election a clear winner has finally emerged in the Fourth District Congressional contest between Dan Newhouse and Clint Didier.
The latest tally as of Monday afternoon shows Newhouse leading by 2,565 votes with a little more than 3,000 ballots still to be counted, according to the Secretary of State's office.
In a battle of Republicans vying to replace Congressman Doc Hastings, who retires at the end of 2014, Newhouse leads Didier 51 to 49 percent (75,757 votes to 73,132).
With the latest vote totals, Newhouse declared victory yesterday in a prepared statement.
"Even though it is only our Secretary of State who can officially proclaim who has won, I do believe that with the few votes left to be counted our current lead will stand," Newhouse said.
Newhouse left this morning for Washington D.C. to begin preparations, including meeting with colleagues in the House and starting the process for committee assignments.
The Sunnyside-area farmer expressed appreciation for his supporters, and to Didier, a fellow Republican, "…for running a spirited campaign."
Newhouse added, "We didn't see eye-to-eye on everything, but we agreed on many issues."
He also pledged to work hard for all in the Fourth District, whether they supported him or Didier. "I'd be happy to work with you and my door will always be open," he said in extending the olive branch.
In yesterday's statement, Newhouse says his focus is on key issues such as passing a balanced budget amendment and simplifying the U.S. tax code.
He also called for reform of the nation's health care and immigration systems, and for a more responsive federal effort for the Hanford clean-up.
"That's a lot to do, and it won't be easy, but I'm excited to get to work," Newhouse concluded.
As of press time this morning, Didier had not conceded defeat.