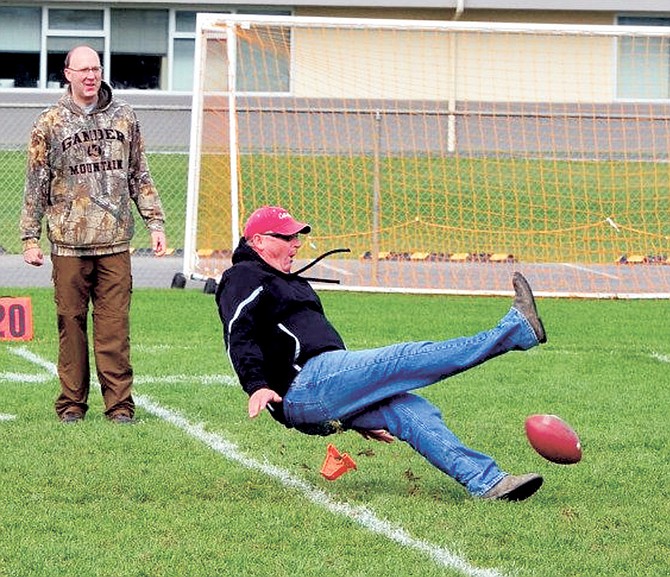 What started out as a marketing maneuver ended well for Sunnyside Christian High School.
This past Tuesday, the school received $600 from Bleyhl Farm Service, Inc. for participating in the farm co-operative's first ever "Kick for Cash" campaign.
Bleyhl pledged cash - $50 to the kicker and $150 to the school – for each successful 30-yard field goal drilled by audience members during the 2014 high school football season. The school administered the contest at home games.
The idea was to get Bleyhl more involved with local schools in a highly visible way that would benefit everyone who participated, said Dennis Ross, Bleyhl retail store operations manager. Store managers approached numerous local high schools with the offer.

At season's end, Sunnyside Christian had three successful kickers. They include Henry Bosma, Brian Bosma and Aaron Prins. But instead of collecting the cash, each kicker donated his respective winnings back to the school.
Organizers say participants and audience members got a kick out of the experience, and the school was delighted to pocket the cash.
"For a small school, the program had a big impact," said Larry Den Boer, a long-time Sunnyside Christian School supporter and manager of Bleyhl's Sunnyside Country Store. "It brought quite a few laughs, too. Everyone seemed to enjoy it."
SCHS Principal Dean Wagenaar said the funds will be used to bolster the school's athletic program.
Ross said Bleyhl is adapting its promotion program for the 2014-2015 basketball season.
Audience members will receive $50 and the participating school $150 for each successful half-court shot.

All high schools in Bleyhl's service area can sign up to participate by contacting Ross at 509-882-2248 or a local Bleyhl Country Store manager.