RELIGIOUS REFLECTIONS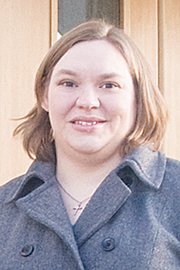 "All earth is hopeful," begins one of the Advent hymns in our denomination's new hymnal.
On the facing page is the classic, "Joy to the World." More secular tunes that we hear this time of year echo the themes of joy and hope: "a beautiful sight, we're happy tonight," and "o, what fun it is to ride in a one-horse open sleigh."
There is a clear message in our stores, on the houses of our neighbors, on TV and on the radio that we are all supposed to be happy this time of year.
But what if you just aren't?
Despite the hopeful expectation of the Advent season (how Roman Catholics and many Protestants refer to the four weeks leading up to Christmas), there are many of us who find ourselves feeling sad and depressed this time of year.
For some, the sadness is rooted in loss. Maybe it's your first Christmas since your husband or wife or parent or child died. Maybe it's the 20th, but Christmas still doesn't feel like Christmas without that person to share it with you.
Some have lost a job or are struggling financially for other reasons, and the expectation to make the holiday special for your family with gifts you just can't afford leaves you feeling depressed and scared.
The stressful expectations of the season even cause many who are not struggling with losses in their life to feel overwhelmed and despondent.
Those who are ill also often feel depressed by Christmas.
Still others, like me, struggle with the shorter daylight hours and the overcast skies; we just feel sad and can't seem to overcome it.
Whatever the underlying cause of our grief or sense of loss or depression, when we see others celebrating, we only feel more alone and depressed.

If you or a friend or family member struggles with sadness at this time of year, you need to know that you are not alone. Far from it, in fact.
"What can I do about it?" you may ask. The first step is for us to acknowledge to ourselves how we are feeling. Then find someone to talk to, someone who will listen. Talk to your family, your friends, your pastor; we are called by God to live in community with one another, and that means we support and comfort one another in times of grief and loneliness as well as celebrating with one another during times of joy.

In the spirit of the love of Christ which binds us together, a group of us from several different churches will be gathering on Dec. 21 at 6 p.m. at Our Saviour's Lutheran Church for a Blue Christmas Service.
Blue, the color we use to decorate our churches during the season of Advent, symbolizes hope. In song and prayer, we will acknowledge together the darkness that plagues us and express the hope that God our Creator will soon, once again, bring light and warmth not only to the earth but also to our hearts in the person of His Son.
Christ, the Savior and Healer of the World, is also the remedy we need for the sorrow that threatens to sap our joy and hope. There is no darkness or sorrow that can separate us from the love of Christ Jesus.

I close by saying to all who are feeling alone or sad right now: you are NOT alone. Not only are there many others who battle despondency in the midst of the holidays, but Christ himself stands with you. The Light which shines in the darkness is still there, even when we cannot lift our eyes to see Him.
Because of the Light of Christ, who came to save us all, we celebrate and sing of hope! In Him, we have a light, a hope that truly cannot be overcome.

Amen.