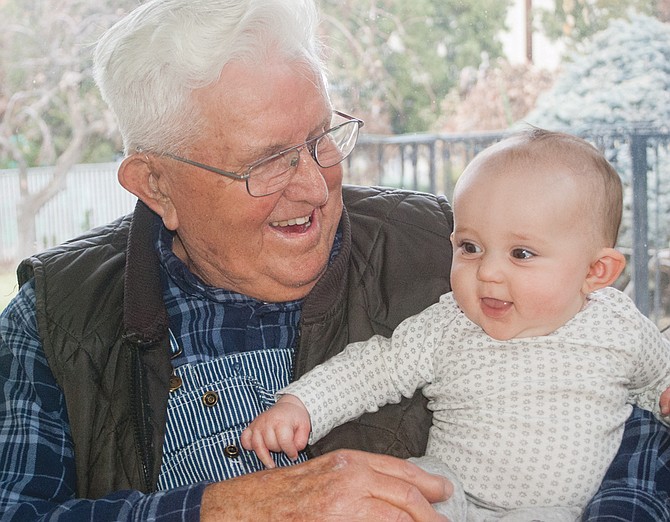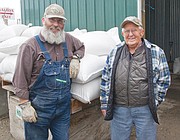 OUTLOOK - From his kitchen window, retired Outlook farmer Marvin Partch can keep an eye on the workings of an operation he and his brother started more than 20 years ago.
Partch Feed Supply may not be as big as the some of the corporate feed supply companies in the Lower Valley "…but we fill a niche for the small farmer," he said.
This past week, Partch learned he has been selected as the 2014 Sunnyside Lighted Farm Implement Parade Grand Marshal, an accolade he was uncertain how to accept.
The Outlook native was at first inclined to turn down the honor, but upon further consideration, Partch agreed to be the parade's farming representative.
Saying being selected is a humbling experience, Partch said "I am happy my peers think I'm worthy of the honor."
Partch is looking forward to the Saturday, Dec. 6, parade and leading the annual holiday procession of lighted farm implements, commercial equipment and floats along a new parade route through Sunnyside.
"I know I have to be there sometime before the 6:30 p.m. start time," he said.
"I don't yet know what kind of rig I'll be riding in," he added. "But I'm sure looking forward to all the excitement," he grinned.
While primarily a farmer most of his adult life, Partch got into the feed supply business end about two decades ago.
Partch has farmed in the Outlook area for more than 66 years. His north Outlook acreage has always been a diverse operation.
"My brother Jim and I raised sugar beets, asparagus, corn, wheat, oats, barley and alfalfa. We even raised hogs and operated a feedlot for a time," he said.
Partch Feed Supply, established a little more than 20 years ago, caters to small farming operators who need fresh milled grains, corn feed and hay for their hogs or chickens, Partch explained.
He said the feed supply business has proven to be highly successful. "My nephews, Jim and Joe Partch, run the outfit now," he said.
Partch, who still lives in the house where he grew up, took over the family farm in the late 1940s, after his father died. The family's 325 acres is a small farm by today's standards, he admits. "But we've always been able to make a living on it," he said.
Partch recalls growing sugar beets for the U&I Sugar Beet Company until the late 1950s. He also raised asparagus until that market fell. Now the farm is devoted to raising the corn, alfalfa and grains which are milled and bagged on site as feed supplies.
"Our retail shop is right here in Outlook," he said.
"We've never really had to advertise the company. It seems word of mouth has kept us plenty busy," he grinned.
Although he contends he is now retired, Partch still manages to keep pretty busy around the feed operation. He also still finds time to volunteer at the Outlook Cemetery, where he can be seen keeping the historical burial ground tidy.
Married twice, Partch married his first wife, Dorothy, in 1948. Together they raised two daughters. Dorothy died in 1982. Partch later married Barbara Benjamin, who died in 2007.
"All told, I have three daughters and five sons. There are no stepchildren in this outfit," he said.
In addition, Partch is the grandfather to 15 grandchildren and three great-grandchildren.
For the time being Partch is considering what he'll wear when he rides in the Sunnyside Lighted Farm Implement Parade on Dec. 6. He knows for sure his daughters, Polly Ingvalson of Prosser and Pam Partch of Ohio, will be alongside him.
"And, I know for sure we'll be bundled up against the cold," he grinned.