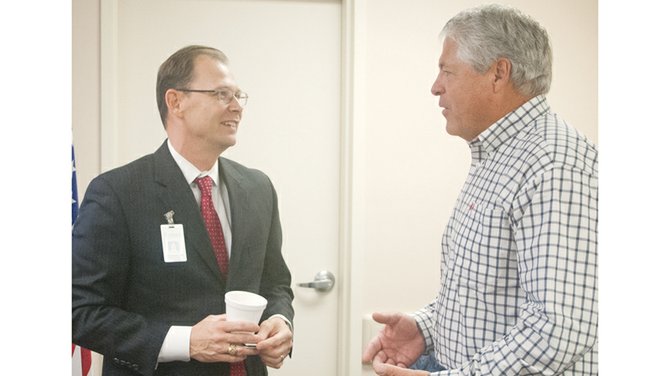 If you've been to Sunnyside Community Hospital recently, it would be difficult not to notice a lot of construction going on, a number of new faces and an expansion of available health care services.
The expansion and construction, according to hospital CEO John Gallagher, serves several purposes.
"We are working to provide comprehensive quality care to the region and to be the region's health care provider of choice," he explained.
"We used to be known as the best small hospital in the region," he said. "Now we want to provide the region with more specialists, more services and the most advance technology we are able to provide locally to our patients," he said.
Gallagher shared that goal with the Sunnyside Daybreak Rotary Club this morning, saying in the three years he has been at the helm of the hospital, medical services have expanded to include access to more local medical specialists, such as an on-site pathologist.
In addition to new choices for family medicine, the hospital has increased coverage in the hospital emergency room, as well as such medical services as a sleep clinic and an in-house laparoscopic center, all of which used to require travel outside of the area.
In addition, the hospital opened a neighborhood urgent care clinic late last year to help reduce the number of emergency room trips.
Gallagher told the Rotarians the local hospital will also soon have on staff a vascular and general surgeon, as well as a specialist in urology.
"We are also looking for a cardiologist, additional family providers, internal medicine and pediatrics physicians," Gallagher added.
Gallagher admitted the changes at the hospital haven't all been easy. He said when he first became the hospital's chief executive a number of difficult financial decisions had to be made.
"We had a sharp reduction in force, dropped our match to the employees' 401K plans, instituted a 4.5 percent across the board salary cut," he said.
Gallagher said the cuts served to give the hospital's financial leaders an opportunity to revamp the hospital's position. "And today, we have reinstituted the 401K match, given back the pay cut, plus this past July we were able to give an across the board 2 percent salary increase," Gallagher said.
Moving forward, Gallagher said the hospital looks to provide home health care, more pathology services, "…and with the acquisition of the Yakima Valley Hearing and Speech Services, patients won't have to travel out of the area for those services," he added.
Gallagher added the hospital has plans to add a hospital suite for vascular internal radiology, a wound care center, a new C-section suite, in addition to current ongoing renovations of the hospital's interiors.
"We are also planning to open an urgent care clinic in Prosser in the near future, the facility is currently under construction," he added.