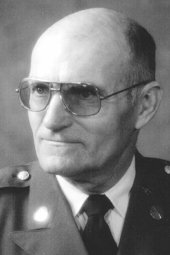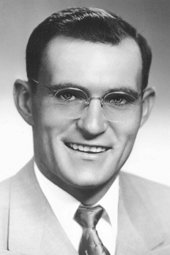 Walter August George, 90, of Sunnyside died on Tuesday, Oct. 7, 2014, in Yakima.
He was born Aug. 20, 1924, in Elberta, Ala. to August and Lillian George. In 1932 Walter and his family moved to Sunnyside, where he attended grade school and graduated in 1944 from Sunnyside High School.
He was drafted into the U.S. Army in 1944 and honorably served his country with Company B, 38th Infantry Regiment, 7th Armored Division and was awarded the Bronze Star Medal for his meritorious combat service during the Battle of the Bulge. He attained the rank of Command Sergeant Major while serving 30 years of active service in the Army Reserve.
In 1946 he started farming with his father and brothers.
In December of 2011, he was honored by the Washington Mint Growers Association with a Lifetime Achievement Award. In March of 2004, he was honored by the Washington State Senate, Senate Resolution 8698, for his extraordinary volunteer efforts and achievements. He served 25 years on the Yakima Conservation District as a district supervisor; he was the chairman of the 208 Water Quality Committee for Yakima County, whose work the governor adopted. In addition, he served on the Diamond Fruit Growers board, supervisor of Drainage #19, chairman of Water Quality Committee for the Washington Association of Conservation Districts and area president for the South Central Area for the Water Quality Committee. He also contributed to the founding of the Washington Asparagus Growers Association, serving as a board member for 15 years and five years as president. In December of 2003, Walter served as the grand marshal of Sunnyside's 15th annual Country Christmas Lighted Farm Implement Parade.
Walt was a life-time member of the Sunnyside American Legion Post #73 and the VFW #3482. In September of 2014, the Sunnyside American Legion awarded Walt with a 70-year membership award and a plaque to honor his service to the American Legion Post #73, where he served as post commander for nearly 12 years.
He was a member of Our Saviour's Lutheran Church.
Walt is survived by his wife of 60 years, Elizabeth (Betty); their daughters, Ann (Pat) Parlin of Sunnyside and Joan Becker of Grandview; four grandchildren, Beth (Andrew) Mulbry of Prosser, Katie Park of Chewelah, Max Becker of Grandview, and Krista Becker of Medford, Ore.; and four great-grandsons; his brother, Fred George; and nieces and nephews.
Walt was preceded in death by his parents, August and Lillian George; one brother, August (Ike) George; and one nephew, Martin George.
Viewing will be held Friday, Oct. 10, 2014, at Smith Funeral Home in Sunnyside, from 4 to 6 p.m. Memorial and graveside services will be held Saturday, Oct. 11, 2014. Graveside services will be held at 9:30 a.m. at the Lower Valley Memorial Gardens in Sunnyside. Memorial services with military honors will follow at 11 a.m. at Smith Funeral Home in Sunnyside. A luncheon at Best Western Grapevine Inn in Sunnyside, will follow the service.
Donations in Walter's honor may be made to Heartlinks Hospice and Palliative Care.
Those wishing to sign Walt's online memorial book may do so at www.funeralhomesmith.com.
Smith Funeral Home in Sunnyside is in charge of arrangements.