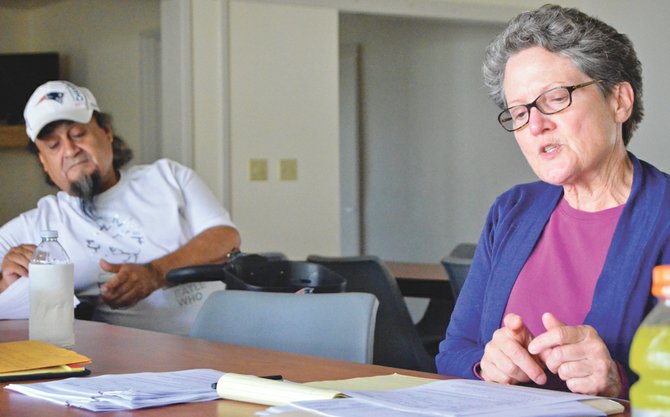 The Sunnyside Housing Authority last Friday hosted a public hearing on its five-year plan in accordance with the U.S. Housing and Urban Development's (HUD) requirements.
Sunnyside Housing Authority Director Keitha Kimbrough said the plan has been divided into two parts, separating the capital projects plan from the overall plan that outlines the agency's goals and objectives.
"Our goals are expanding," she said.
The housing authority has identified the need to expand the supply of affordable family housing, management of housing programs in a manner that promotes the health and safety of tenants and promoting the sustainability and efficient management of existing assisted housing resources to better serve the community as its goals.
To meet those goals the agency plans to develop 40 units of family housing, using housing trust funds, implement an agency-wide no smoking policy in Sunnyside Housing Authority owned properties, evaluate the feasibility of a HUD rental assistance demonstration or other conversion for 140 units and pursue resources within the USDA to extended rental assistance.
The housing authority, according to Kimbrough, wants to obtain financing for the rehabilitation of 118 of its farm worker housing units, which are approximately 30 years old. The agency also wants to implement a conversion from section 9 to section 8 subsidies for 140 units.
Included the housing authority's capital projects plan, the agency's maintenance and facilities director, Bruce Epps, are $1.15 million in improvements over the next five years.
Included are electrical upgrades to 40 units, he said. Those upgrades will involve LED lighting, instead of standard lighting.
"That will improve our operations costs," said Epps.
Also planned for next year will be the replacement of air conditioning and furnaces in 60 units.
In 2016, the housing authority plans to replace bath and kitchen exhaust fans in 40 units, as well as relining and sealing compromised duct work in 32 units.
Water heaters that are approximately 25 years old are planned for replacement in 60 units for 2017. That year, the housing authority also plans to replace carport posts for 60 units.
"The carports are original," Epps said, stating years of wear and tear have taken their toll on the posts.
Also in 2017, the housing authority plans to replace gas ranges in 60 family units.
In 2018, Epps said the housing authority has included plans to connect water used for landscaping at four sites to irrigation to reduce operating costs.
For the final year of the plan, 2019, the housing authority has plans to replace siding to 80 units, install water shut-off valves to family duplexes and replace forced air furnaces for 40 units, as well as add insulation to its family units.
"The siding is close to 14 years old and in need of repairs," said Epps.
There were no public comments during the hearing. The Sunnyside Housing Authority will submit the five-year plan to HUD following approval by the Sunnyside Housing Authority Commission.