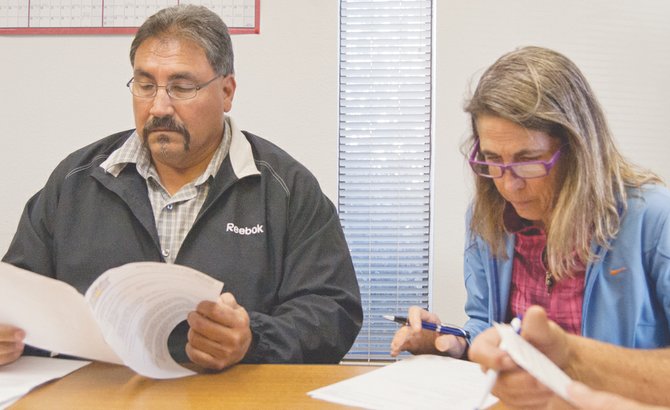 The Sunnyside Board of Parks and Recreation met Wednesday afternoon and discussed the future of Christina Knoth Park and the preliminary calendar of parks and recreation activities for 2015.
The park is located near the Law and Justice Center on Homer and North First streets.
John Millan, superintendent of public works, presented an update on Christina Knoth Park. He told the board the priority had been dealing with the weed patch in the area and compacting the dirt.
Millan said the next course of action is to hook up the water lines. He was interrupted by Board Member Bob Sarmiento, who noted that an irrigation line was installed to provide water to the park. Millan said he'd look into the
possibility.
The city also plans to bring in more topsoil, and Millan said the plans for that will be firmed up tomorrow. He said after the soil is put in place and graded, the city would determine the next steps. He noted the city will be providing weed management until the field can be seeded.
"The big thing was getting rid of the eyesore the weed patch was causing," said Millan. "We've been chipping away at it one thing at a time. We'll continue to chip away at it and get it
done."
The board also reviewed Recreation Coordinator Megan Razey's preliminary schedule for 2015 parks and recreation events. She told the board she hopes to have a winter basketball league in place from this December until March 2015 for children ages five to 10.
Razey also has plans for tennis camp in June and a variety of one-week summer camps in July. She also wants to revive "art in the park" next summer and have co-ed softball starting in August.
Razey said she's trying to keep the community center busy, but also get more events happening elsewhere in the community. One issue she is working on solving is getting people with skills to help out for various activities.
"I want to do more and more," she said.
The board also discussed the need for a place to store the senior center's BBQ grill, the possibility of the Sunnyside High School leadership class putting on a "humans versus zombies" tag event and water safety classes for the pool next summer.
‑ Laura Gjovaag can be contacted at 509-837-4500,
or email LGjovaag@DailySunNews.com