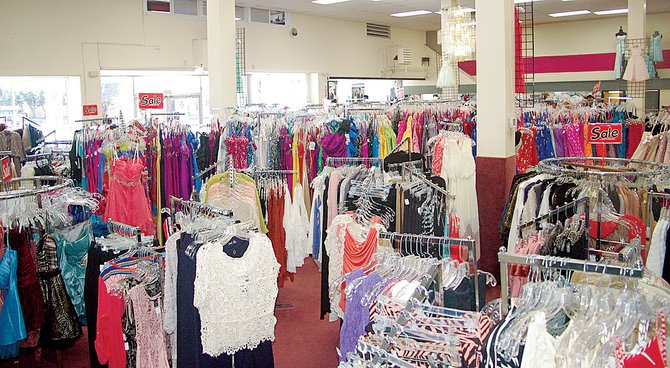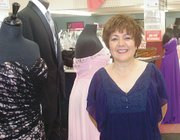 Clients come from across Central Washington for the wide range of bridal and junior apparel offered at Fashion Corner in Sunnyside. They also come to see owner Irene Jochen and her staff for their outstanding customer service.
But with the old fluorescent lamps and magnetic ballasts in the shop constantly burning out, Jochen and her husband, co-owner Rod Jochen, were concerned clients might not be seeing Fashion Corner at its best.
"The lighting just seemed like it didn't last very long and we had weak spotlights in our show windows," Mr. Jochen said. "Out on the show floor, formal dresses with sequins on them – they looked dull."
Jochen researched options and found Pacific Power's "wattsmart" business program could help solve the store's dilemma. The program offers cash incentives and technical assistance to upgrade lighting and other equipment that increases energy efficiency. Retrofit or new construction projects are eligible.
A wattsmart business lighting coordinator performed a lighting analysis at the store, which estimated the energy and cost savings from improvements. The store owners then chose Kinter Electric, a Pacific Power Energy Efficiency Alliance vendor, to make the switch. Jochen said the contractor was helpful in providing additional ideas.
Kinter Electric upgraded Fashion Corner's older fluorescent lighting and magnetic ballasts to qualified high efficiency T8 fluorescents with electronic ballasts throughout the 12,000-square-foot building, including in the show windows. LEDs replaced incandescent bulbs in a showroom chandelier.
In addition, sensors were installed in the merchandise staging room, layaway room and other areas to automatically turn lights on or off as required.
"The lighting change improved everything tremendously. Not only out on the show floor, but in the back stockrooms as well," said Jochen.
"Customers who had been in before came back and said 'Wow!'"
He also reported that since the project was completed, "We have not had one bulb go out on us. So there's a cost savings on maintenance expenses as well."
Fashion Corner's lighting improvements are saving the business approximately 30,560 kilowatt-hours of electricity yearly. This usage reduction translates into $2,309 in annual energy cost savings. The retailer earned $4,495 in Pacific Power incentives to help offset the cost of the upgrade, plus shaved two years off the project's simple payback.
Fashion Corner is one of 18 Pacific Power commercial business customers in the Sunnyside area that have switched to energy-efficient lighting in the past year with help from a total of $66,780 in wattsmart business incentives. These businesses are saving a combined 483,000 kilowatt-hours of electricity annually.