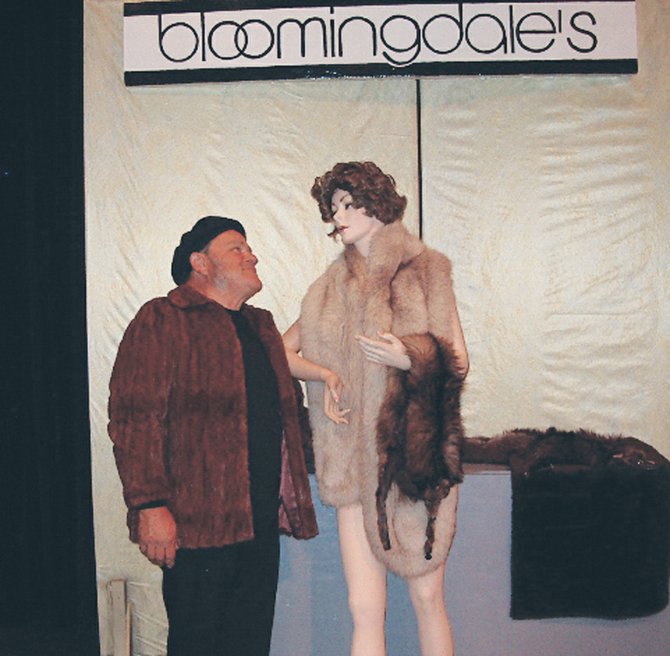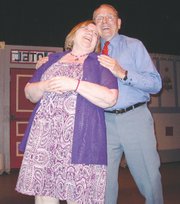 PROSSER – Residents in the towns of Sunnyside, Grandview, Bickleton and Prosser have been gathering on Monday and Thursday evenings for quite some time now, preparing to entertain community theater enthusiasts this
fall.
Over the Hill Theatricals will present 70, Girls, 70 on Saturday, Oct. 4. The curtain is scheduled to rise that night at the Princess Theatre in Prosser at 7:30 p.m.
A matinee performance will be staged the following day – Sunday, Oct. 5 – at
3 p.m.
Additional performances at the Princess are scheduled for Friday and Saturday, Oct. 10-11, at 7:30 p.m., with the closing matinee production slated for Sunday, Oct. 12, at 3 p.m.
70, Girls, 70 first premiered on Broadway in 1971 and later experienced a revival in in London in 1991. It is a somewhat irreverent musical comedy set in the late 60s and features a group of retired people struggling to survive financially and emotionally at the old Sussex Arms Hotel on Manhattan's upper west
side.
The story is comical and tragic both at the same time; contrasting the will to thrive and enjoy life with the inevitable decline that comes with aging.
The "fourth wall" is frequently broken as actors make remarks or sing directly to the audience.
The music, composed by John Candor with lyrics by Fred Ebb (Cabaret and Chicago), is contagious and appealing from the start.
Pat Walsh, a spokesman for the Over the Hill Theatricals group, said this show is a good fit for the local theatrical troupe because the group caters to
seniors.
Over the Hill Theatricals is a non-profit theatre group of people age 45 and older. They have been producing musical plays annually in the Lower Yakima Valley since 1989. Last year the group staged Snow White and the Seven Dwarfs.
The most senior member of the group is Betty Minnich of Grandview. In her respectable mid-eighties, Minnich has appeared on stage for both the Valley Theatre Company and Over the Hill Theatricals for 51 years.
Minnich is playing minor roles and singing in 70, Girls, 70.
She and her late husband Ray watched Valley Theatre Company's first show, Oklahoma, in 1961 and were hooked. They had little background in theatre except that they both liked to sing and dance.
The couple sang and danced together through numerous shows after
that.
Mrs. Minnich's biggest role was Aunty Mame in 2004. In addition to performing on stage, she also contributes in the costume departments in the different productions.
Minnich has participated in 51 shows in all. She missed Beauty and the Beast in 2008 because she stumbled on steps in her own home and broke her ankle. She recalls that she cried real tears as she sat in the audience and watched this show because she yearned so much to be in the
show.
Minnich worked in clothing stores (Marni's and The Men's Toggery) in Grandview prior to retiring. She has hosted many fun-filled socials for Over the Hill Theatricals beside the swimming pool at her home in Grandview.
Rev. Gary Rohde of Grandview and his wife, Suzie, are serving as co-producers of 70, Girls, 70.
Julie Trumble and Reba Fink, both from Prosser, are the co-directors.
The music director is Sunnyside's own Sue Jetter.
Another Sunnysider, Dolores Howe, is in charge of choreography.
The instrumentalists for the production will be Prosser High School's Brady Giles and Barbara Davis of Bickleton.
The play's principal actors include Kristi Tuor of Bickleton, Janet Minton of Sunnyside, Debbie Mendoza of Sunnyside, Terry Langley of Yakima, Tom Stegeman of Toppenish, Sue Ellen Davis of Sunnyside, Karen Santos of Sunnyside, Suzie Rohde of Grandview and Ann Glover from Harrah.
Tickets for 70, Girls, 70 – priced at $10 for general admission and $8 for senior citizens and young children – will be available at the door of the Princess Theatre just prior to each performance. Tickets can also be purchased ahead of time at the Daily Sun News office and at Melange in Sunnyside, at the Grandview Safeway store and at Sixth Street Art and Gift Gallery in Prosser.