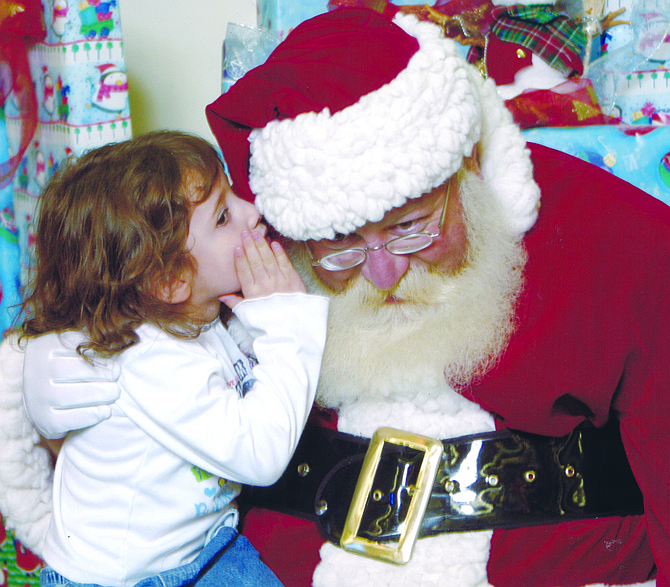 Dinnie Henderson, who was Santa Claus to several generations of Sunnysiders, died this past Sunday, March 29.
Dinnie Henderson's Santa Claus was everything a small child could wish for: kind, soft spoken and he was an excellent listener.
For more than 15 years the robust man would don the red and white Santa suit, make sure his beard was snowy white before sitting for portraits as "Santa Claus" at Sunnyside's Mid Valley Mall.
He would set up his Santa photo booth and his camera and printing equipment in the center of the mall just after Thanksgiving. He would spend most evenings and every weekend through Dec. 24, ready to pose for photographs with the sometimes shy, occasionally terrified, but mostly eager children.
It wouldn't take long before parents of small children, all dressed up for the Christmas holidays, lined up for a visit with Santa. When family members weren't suiting up as Santa's helpers, he would offer the duty to various service groups, such as the Sunnyside Lions Club, of which he was a member.
Dinnie also made sure each family was able to take home the coveted color photograph shortly after the portrait sitting. At first he used Polaroid prints, although he didn't really care for the photograph's quality. Later, when he was able, Dinnie shifted to a digital photographic process, which he liked much better, according to family members.
His Santa was so authentic that many families traveled long distances to have their children's photographs taken with him every year, said his widow, Mary Henderson, who always played Mrs. Claus to her husband's Santa.
The couple were a popular pair at the mall, according to their daughter, Janice Alaniz, who often worked alongside her parents as Santa's helper.
The couple retired from the Santa photography business a number of years ago, when Mary became ill.
"He was always very patient with the children," said Alaniz.
"I tried carrying on the mall Santa business, but I wasn't as patient as Dad," she said.
Alaniz said her brother, Dennis Welch of Joseph, Ore., will now carry on the family's Santa tradition.
"We're keeping Santa in the family," she said.
While he didn't want a formal funeral service, Dinnie's family invites his friends to join them for a celebration of his life this coming Saturday, April 4, at the Sunnyside Fraternal Order of Eagles lodge, 100 E. South Hill Rd, from 5 to 8 p.m. (A complete obituary can be found here).