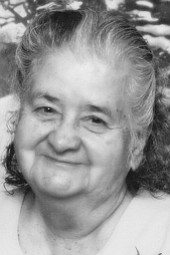 Celia H. de Cruz, 87, of Sunnyside passed away on Sunday, April 12, 2015, in Sunnyside.
She was born to Calletano Hilario and Maria Elena (Waltz) de Hilario in Saltillo, Mexico.
She received her early education in Mexico. She was a very devoted wife and mother who also worked in the Yakima Valley in the agriculture industry. She loved reading the Bible and going to church, going out to eat with her daughters and collecting toys, but the time she truly cherished were the moments spent with her loving grandchildren and great-grandchildren. She was deeply loved by her entire family and will be deeply missed by all those who knew and loved her.
She is survived by her daughters, Maria Elena Cruz de Calderon of Mexico, Dora Celia Chavarria of Texas, Margarita Velasquez of Mexico and Maria Cruz Espindola of Sunnyside; her son, Juan Cruz of Texas; grandchildren, Norma, Zenaida, Araceli, Ricardo Jr., Maribel and Adriana; 15 more grandchildren and 29 great-grandchildren; two brothers; three sisters; and numerous nieces and nephews.
She was preceded in death by her parents; her siblings, Jose Maria Hilario, Fernando Hilario, Maria Luisa Valencia, Maria Elena Zepeda, Nora Rivera and Dolores Sanchez.
Viewing and visitation will be held Thursday, April 16, 2015, from 2 to 8 p.m. with a recitation of the Holy Rosary at 6 p.m. at Smith Funeral Home Chapel in Grandview. A Mass of Christian Burial will be held on Friday, April 17, 2015, at 1:30 p.m. at St. Joseph Catholic Church in Sunnyside with burial to follow at Outlook Cemetery.
Those wishing to sign Celia's online memorial book may do so at www.funeralhomesmith.com.
Smith Funeral Homes Ltd. is caring for the family's arrangements.
More like this story