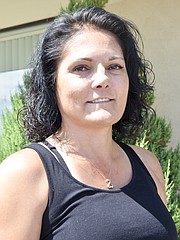 Wanting to create more fun and enriching opportunities, specifically for children in kindergarten through sixth grades, Monica Guillen has signed on as the newest member of the Sunnyside Parks and Recreation Board.
She was sworn into office earlier this month and said she wants to make a difference.
"With the high school being at the 4A level, I believe it's important to get kids involved in athletics earlier," said Guillen.
She believes children who fall in love with a sport, or many sports, also become academic achievers.
Guillen is known in the community for working with her husband to establish the Little Grapplers wrestling program. The couple, as well as several volunteer coaches, has been helping youngsters in the community for the past 13 years through the program.
"I have seen kids in the program achieve a greater level of confidence, sportsmanship, teamwork and other skills that help them in other aspects of their lives," said Guillen.
Knowing the impact of that program, she said she would like the parks and recreation department to offer more programs for youngsters in the community.
"Sunnyside is an athletic community," said Guillen, whose own family has been involved in athletics.
Her own children were involved in parks and recreation programs when they were young.
"As a community, people in Sunnyside are very good at giving children the support they need," Guillen said, noting the Little Grapplers program has received many donations from individuals and businesses in Sunnyside.
So too, she said, can parks and recreation programs receive the same type of support.
"I am motivated to get more parks and recreation programs started…I want to see the city invest more in the programs, as well," Guillen said.