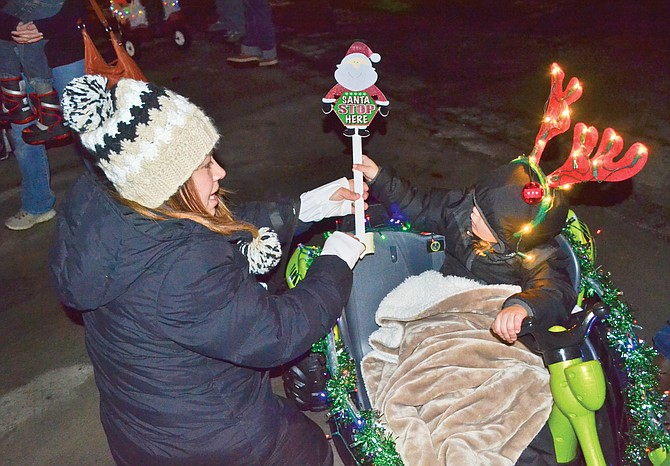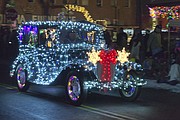 SUNNYSIDE — Activity filled downtown last weekend in the build up to the 27th annual Lighted Farm Implement Parade.
It all started with the second annual Kids Lighted Christmas Parade on Friday night.
"It's great," local Standard Paint Manager Dave Shrewsberry said while watching the proceedings Friday. "It's fun to watch and it gives the kids something to do."
Police officers and volunteer police explorers lined the parade route alone Sixth Street, keeping participants safe. One of the volunteer explorers was Manuel Birrueta, who even helped a child's stalled motorized wagon negotiate the path.
Last Saturday saw a wealth of choices for residents and visitors, ranging from cookie decorating with Mrs. Claus to pancakes with Kiwanians just before the parade.
Festivities included a festive museum open house and a craft fair filling Mid-Valley Mall.
Everything culminated with Saturday night's Lighted Farm Implement Parade. It attracted more than 50 entries, with prizes awarded to the best entries in 10 different categories.
Among the winners were Larry Oswalt in the old farm category, the Johnson family in the antiques cars and trucks division and Northwest Nitros in the non-commercial Christmas category.
Taking home the Sweepstakes prize was Burrows Tractor.
"It is wonderful," said Sunnyside's Sharon Beebe of her first Lighted Farm Implement Parade.
"People really went all out to decorate their floats," she said. "I'm glad I finally got to see it."
For more coverage of parade weekend, see our parade events photo gallery.