How to comment
The Bureau of Reclamation is accepting comments through Dec. 18 to be considered for the Kachess environmental assessment.
Mail comments to Candace McKinley, Environmental Program Manager, 1917 Marsh Road, Yakima, WA 98901, email roza@usbr.gov, or attend scoping workshops today in Cle Elum or Wednesday in
Sunnyside.
Roza Irrigation District farmers and Lake Kachess homeowners expressed frustration with the process for a proposed $58 million pumping plant during a workshop in Ellensburg Monday.
Several said the Roza Irrigation District and the U.S. Bureau of Reclamation lack transparency as plans for the 50,000 acre-feet Kachess Emergency Pumping Plant in Upper Kittitas County move forward.
The pump would allow Roza to access the reservoir's inactive water storage to counteract a predicted second year of drought throughout the state.
But many farmers in the irrigation district say that extra water isn't worth the extra $85 per acre they would likely have to pay for 10 years, said Roza farmer John Badgley, who wants to opt out of the project.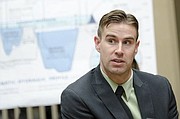 "I feel like I'm going to get pushed out of farming," he said. "I feel the board members are pushing this through in the interest of big business and themselves."
He said Roza board members were not doing their due diligence to make sure farmers in the district were represented fairly.
Badgley echoed concerns that were raised in a full-page newspaper advertisement Saturday that urged farmers to voice their opinions on the pumping plant.
The advertisement, which was signed by "your fellow concerned Roza Growers," was passed through the audience during the workshop.
Environmental assessment
The Roza board voted unanimously in October to pursue the project, with hopes of starting construction by mid-March and having the pumping plant ready to use by July 1, 2016.
Several said the process is moving too quickly and without enough input.
Most people who asked questions were told their concerns would be addressed in an environmental assessment to be released Feb. 1.
Chad Stuart, manager of the Bureau of Reclamation's Yakima Field Office, said the scoping workshops this week a chance for the public to comment, but were not set up for dialogue or debate.
The Bureau of Reclamation will make the final decision March 2.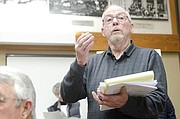 Attendees expressed concern there would not be a forum for public comment between the time the environmental review comes out and when the decision is made.
"When (the environmental assessment) is issued, we get to look at it and say, 'oh gee, they forgot this — on purpose maybe'," said Grant Learned Sr., a homeowner from Lake Kachess.
The Bureau of Reclamation is accepting comments to be considered for the environmental assessment through Dec. 18.
Learned said there will likely be extra costs for farmers that aren't included in the $58 million price tag.
He said he doesn't see any money budgeted for mitigating the effects of drawing down the lake an extra 18.65 feet.
"We know Roza needs water … but who's going to determine those extra costs?" he said. "I don't see it happening in a legitimate way. I think your people need to sit down with our people."
Learned also raised concerns about the endangered bull trout that wouldn't be able to make it up to Little Kachess as a result of the drawdown.
Risk for Roza
The pumping plant would be used only if a drought were declared next year.
One person asked why Roza would be willing to spend $58 million if it is only a possibility there would be another drought.
Bob King, senior vice president of HDR, the firm that designed the pump, replied saying cost of inaction if there is a drought is much greater than spending $58 million and not having a drought.
He said the cost of taking no action could be "hundreds of millions of dollars."
The Kittitas Reclamation District was divided on whether to join the Kachess project, but wanted to keep options open. The board voted unanimously in November to pursue a latecomers agreement for the temporary plant, which spells out how it would participate in the future if it decides to take that route.
The pump
This project is different than a proposed larger permanent pumping plant that is still being pursued as part of the Yakima River basin integrated management plan, a long range water and habitat plan for the region.
Work is ongoing by the Bureau of Reclamation and the state Department of Ecology in a separate project to study the impact of a permanent pumping plant at Lake Kachess and a four-mile intertie pipeline between the Lake Kachess and the Lake Keechelus reservoirs.
The temporary pumping plant could draw down Lake Kachess an extra 18.65 feet and could pump at 667 cubic feet per second.
It would have four pumps powered by four generators.
"This is a very ambitious undertaking and Roza recognizes this," King said.
The pump could add about 13.3 percent to Roza's supply. The district could only use water from the emergency pumps to supplement up to 70 percent of its allocation.
After the irrigation season ends next year, the pumping plant would still pump water at about 35 cubic feet per second to keep enough water in streams for fish and other wildlife.
Next meetings
The second scoping workshop is 4-7 p.m. today at the Cle Elum Ranger District, 803 W. Second Sreet, Cle Elum.
The third workshop is 4 to 7 p.m. on Wednesday at the Best Western, 1849 Quail Lane, in Sunnyside.
The Roza Board of Directors will meet at 10 a.m. Dec. 15 at Sunnyside Valley Irrigation District Field Office, 1105 Yakima Valley Hwy, Sunnyside, to discuss an $85 per-acre assessment in addition to the standard operations and maintenance assessment.