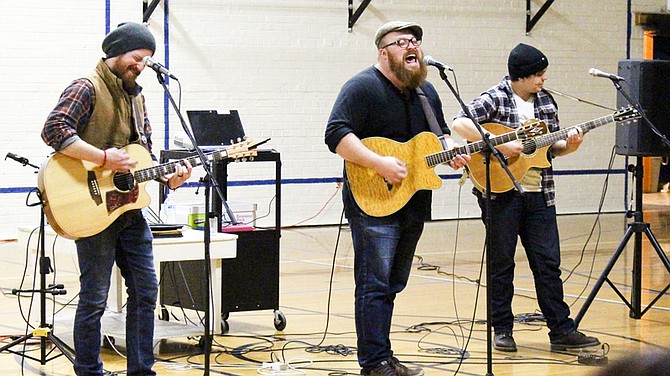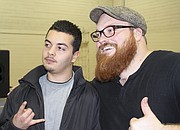 GRANDVIEW — An opportunity to listen to live music during the school day is a treat, but having that music provided by nationally famous musicians is a rarity.
For Jessi Soto, a young songwriter, it was a chance of a lifetime. The Compass High School student listened to Cody Beebe, the school district's musician in residence, introduce his fellow band members Austin Jenckes and Skylar Mehal.
While she appreciated the half hour concert last Friday, her main focus was on Jenckes, a finalist on the television reality show, "The Voice."
Soto waited until the end of the concert to talk with Jenckes about the songwriting progress.
Having musicians and students mingle is the kind of interaction that Grandview Schools Superintendent Kevin Chase hoped for when he introduced the district's new Musician in Residence program this past October.
"This was great," Chase said following the concert. Beebe, Jenckes and Mehal not only played and sang for the district's students, they took time to meet and discuss the music industry.
Jenckes who spent 11 weeks in production for "The Voice," said most days were spent practicing his music, being in make-up and trying on clothes for the broadcasts.
"We worked from 6 a.m. until 10 p.m. each day," he told the students.
In between, he and his fellow contestants played computer games and wrote songs, the 27-year-old musician said. After making it into the Top 10 as a finalist, Jenckes went on tour with other Voice contestants and will be back in a recording studio early next year to work on his new album.
Originally from Duvall, Jenckes now spends most of his time in Nashville.
Following Friday's concert at Compass, Jenckes, along with Beebe and Mehal, who earlier in the day had performed at each of the elementary schools, headed to the high school to work with students.
Bringing Jenckes to Grandview was Beebe's idea. Beebe, a Tieton-based musician, had been in a band with both Mehal and Jenckes before Jenckes went on the Voice.
As the district's musician in residence, Beebe brings in different musicians throughout the year to work with students, exposing them to different forms of music and a chance to see professional musicians in a more informal setting.