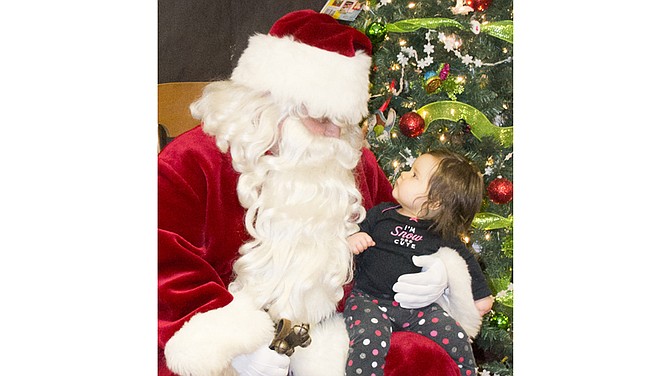 SUNNYSIDE — A local man is not only a third-generation Santa, he's also begun a tradition of caring for local foster children that's grown every year.
Grant Smith, 41, said he can't imagine a holiday season without putting on the red suit and playing Santa at local schools and nursing homes. He said the family tradition started when his grandfather, Hap, moved to Lower Valley more than 60 years ago.
"My greatest nostalgic memories are seeing my grandmother help dress my grandfather in his Santa suit," Smith said.
Smith's father, Greg, then played the role every year until Smith took over eight years ago. His wife Dana helps by dressing up as Mrs. Claus, and his daughter, Rachel, dresses as an elf.
About four years ago, Smith decided to help local children who might feel adrift at the holidays. He sponsored 15 foster children, making sure they got great presents off their wish lists. Since then, others have chipped in and this year more than 140 foster children received gifts.
"I wanted to start something in my own community to benefit local kids," he said. "Not that I don't want to help outside of the community, but I want to see the impact here."
Smith said local churches and others joined in the effort. It has become an "amazing" effort every year.
"I've had foster parents tell me that we don't know what it means to those kids to open packages with things they wrote down, things they wanted," he said. "To open a gift that they just aren't going to get. It's an amazing thing."
Smith said he tends to get emotional about it because his own daughter and other children also joined in the effort, asking their parents to take money they would have spent on gifts for them to go instead to foster children.
"It really is something special," he said. "The first year I could fit the gifts in the back of my Blazer. This year three trips with a full Suburban were not enough to carry it all."
He said the local aspect also makes it extra special for him.
"The thing I really love about it, it's staying here," he said. "These are kids that live here, go to school here. We're helping right here in our own community, making a difference here."
Smith said he plays Santa at the event where foster children are presented with their gifts. It's one of many appearances he makes during the holidays.
"I get booked up," he said. "People start calling between Halloween and Thanksgiving to find out if I can come."
He doesn't charge for appearances as long as it's for a good cause. When he receives donations, they go toward gifts for foster children.
At Washington Elementary School last night, Smith entered ringing a belt of jingle bells. The children were delighted, posing for photos.
"It's an amazing experience," said Bambi Van Gaver, a first-grade teacher at the school. "I get tears when I see families come to this event."
She said the activity night with Santa gives parents and grandparents a chance to visit the school and have fun with their children.
Principal Gwen Trull said having Santa show up makes for a great evening.
"There's nothing like Christmas and Santa," she said.
For Smith, the season is also all about being together with the ones he loves.
On one of the hottest days this past summer, Smith said the Prosser Sun Terrace Retirement Community asked him to come out for Christmas in July.
"It was over 100 degrees that day," he said.
He took his daughter and the two entertained the senior citizens. As they left, Smith said his daughter noted some of those people they entertained wouldn't make it until Christmas.
"It made it worth it," he said. "It's about giving back."
Smith also talked about visiting Sun Valley Elementary School recently. He said he spent some time in special needs classes.
"The interaction is amazing," he said. "It's not just Santa at a mall, available for a few moments. They can talk with me, tug on my suit."
He said visiting a kindergarten and going to a retirement community are more similar than a person might think.
"There's a closer connection between younger kids' and older folks' love for Santa than most people," he said. "We seem to get lost in the middle somewhere."