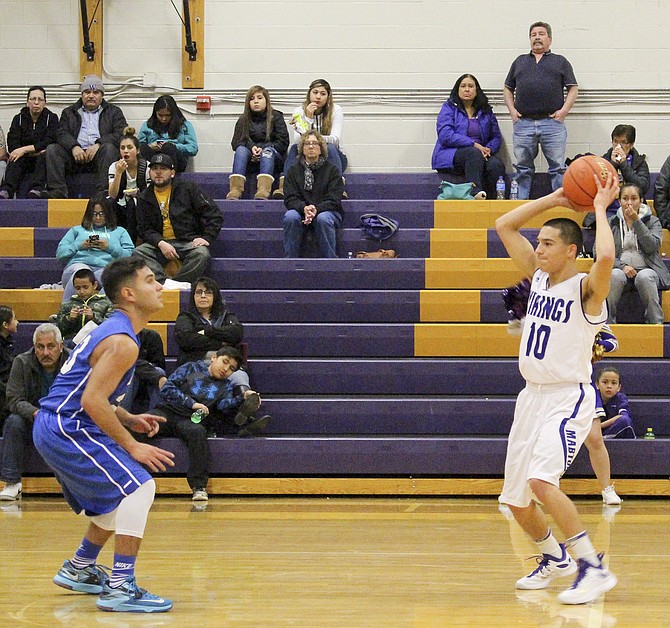 BOYS PREP BASKETBALL
MABTON — The Vikings boys basketball team, opened Central Washington 2B league play at home Saturday night with a decisive win over Soap Lake.
With 28 points, to pace the Vikings, senior Roy Zavala led his team to a 76-62 victory.
"It was great to open up league play with a victory," coach Brock Ledgerwood said. "We got the win and it's great to get that first league win. However, this win was ugly at times."
Zavala wasn't the only scorer in double digits for the Vikings. Max Ruiz put up 14 points. Diego Garza scored 12 and Isaiah Sanchez added 10 points.
Daniel Delgado led the Eagles with 19 points and Jacob Wilkes added 17.
"We jumped out early and took a 9-2 lead," Ledgerwood said. "However, after that we played them even for rest of the first quarter with poor defense."
The team stepped up its defense in the second quarter and broke open the game.
Defensive play was led by Sanchez with 10 rebounds. Garza also grabbed nine rebounds for the Vikings, Zavala had eight and Joshuah Rodriguez seven.
"We played good enough to get the 'W,' but we need to play more consistent as the season progresses," Ledgerwood said. "It was great to see guys stepping up with all five of our starters scoring nine or more points. Roy will lead us in scoring most nights, but we need consistent production from the others to be successful."
Also on Saturday, the Mabton girls opened league play with a 76-41 win over Soap Lake.
Both Vikings teams play again tomorrow night, in a non-league matchup at Columbia (Burbank). Gametime is 7 p.m. in the gymnasium, 787 Maple St., Burbank.
The Coyotes are coming off a 66-43 loss against the Connell Eagles.
Brian Hawkins led all scorers with 18 points for Connell in that South Central Athletic Conference East contest. Only two scorers got into double digits for the Coyotes.
SCORE BY QUARTER
Soap Lake 17 8 20 17 — 62
Mabton 26 21 16 13 — 76
SCORING
MABTON — Roy Zavala 28, Max Ruiz 14, Diego Garza 12, Isaiah Sanchez 10, Rodriguez 9, Aguilar 3.
SOAP LAKE — Daniel Delgado 19, Jacob Wilkes 17, Allen 8, Dekker 7, Vargas 4, Leischer 4, Boyd 3.
REBOUNDS
MABTON — Isaiah Sanchez 10, Diego Garza 9, Roy Zavala 8, Joshuah Rodriguez 7.
ASSISTS
MABTON — Roy Zavala 6, Diego Garza 6, Joshuah