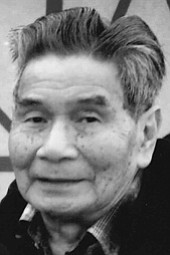 Sing "Louie" Wang Louie, 83, a longtime Sunnyside resident, passed away Tuesday, Feb. 24, 2015.

He was born Dec. 13, 1931 in Toisan, China the son of T.S. and Tong Shew (Young) Kin.
He received his education in China. In 1951, he moved to Sunnyside and established the Golden Pheasant Restaurant. On Aug. 22, 1958, he married Marina Chung in San Francisco, Calif. He loved to hunt and fish with his buddies and cherished the time he spent with his children and numerous grandchildren.
He is survived by his wife, Marina C. Louie of Sunnyside; six children, Theresa Hong Louie (Adam Yzaguirre) of Federal Way, Emily Hong Louie (Mark Burton) of Des Moines, Nancy Hong Louie (Karl Vicze) of Marysville, Kile Hong Louie (Mei Louie) of Sunnyside, Dorothy Hong Louie (Chris Chu) of Des Moines, and Kenney Hong Louie (Lisa Hong Louie) of Woodinville; and 15 grandchildren.

He was preceded in death by his parents, T.S. and Tong Shew (Young) Kin.
At the family's request there will be no formal service. Private interment will be held at Terrace Heights Memorial Park in Yakima. His family would like to thank you for respecting their wishes.
Those wishing to sign Louie's online memorial book may do so at www.funeralhomesmith.com.
Smith Funeral Home LTD and Crematory is in charge of all arrangements.