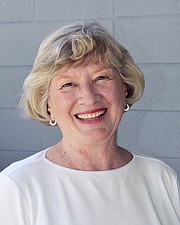 Last Tuesday the Washington State Senate honored the Washington citizens who were among the first to join the Civil Air Patrol. For one reason or another these men and women could not be drafted, either because of age or disability, but as one of them said, "We wanted to serve our country."
Commissioned on Dec. 1, 1941 (just days before the attack on Pearl Harbor), the Civil Air Patrol was given the job of patrolling our nation's borders. At the time German U-boats and submarines were haunting American ships in our harbors and off our coasts, especially the East Coast.

By Executive Order in 1943 the Civil Air Patrol became an auxiliary of the U.S. Army Air Force and its planes were issued bombs and depth charges. These planes found 173 submarines. That information was forwarded to the U.S. Navy.

The Civil Air Patrol did attack 57 of them, sinking two. Several months later the Germans withdrew their coastal U-boat operations.
An additional mission during World War II was search-and-rescue, a mission which they still carry on today.
Military aircraft was busy, expensive to operate and flew too fast to accurately spot downed planes and personnel. The Civil Air Patrol is credited with saving millions of dollars and thousands of lives with their smaller planes and dedicated volunteers.
During the 2014 Oso mudslide, the Civil Air Patrol was able to get vital supplies to areas unreachable by other aircraft, and their ground teams helped to evacuate the survivors.
On Dec. 14 of last year the United States Congress awarded the Civil Air Patrol the Congressional Medal of Honor, the highest award civilians can receive. This medal was given to four Washingtonians, of which two were present at this past Tuesday's ceremony. The other two, Gordon Ebbert of Moses Lake and James Campbell of Redmond, are recently deceased and the medals were presented to family members.
The two gentlemen who were present were Richard Hagmann, 91, of Spokane, and Warren Davis, 94, of Seattle.
Lt. Col. Warren B. Davis joined the Civil Air Patrol in 1942 at Muller-Harkins Airport in south Tacoma. His father had served in the Royal Canadian Air Force in WWI and moved to Tacoma after the war.
As a child, Warren and his father used to rent a plane to have the joy of flying. He has been a very active pilot with search and rescue missions, on foreign exchange missions, and participated in Hands Across the Border with Canada.
After World War II he worked for Boeing for 47 years. He is still an active Civil Air Patrol member with the Renton squadron.
Lt. Col. Richard A. Hagmann joined the Civil Air Patrol in 1942 in southern California. He served as a mechanic for the Civil Air Patrol planes at the border of Mexico until 1944, when that base closed.
He returned to San Diego and was a member of Tow Target Unit No. 12. The tow target squadron gave student fighter pilots and gunners practice in the air shooting down planes. Obsolescent airplanes were pulled by long cables as moving targets for the gunners. Hagmann helped keep these planes flying.
Both of these men said nearly the same thing earlier this week. They were just everyday people volunteering to serve their country doing what they could. They were thankful to the Civil Air Patrol for the opportunity.
Besides all the opportunities to volunteer for service, the Civil Air Patrol has a cadet program for students between the ages of 12 and 20. Its aerospace program provides both classroom and practical instruction in flight and rocketry. As the cadets advance, each one is offered the opportunity to participate in orientation flights in both powered and glider aircraft while learning search and rescue techniques. There is a cadet program in Yakima which meets every Monday evening.
‑ Jerri Honeyford, wife of Sen. Jim Honeyford (R-Sunnyside), provides her "Across our State" columns while the couple is in Olympia during the legislative sessions.